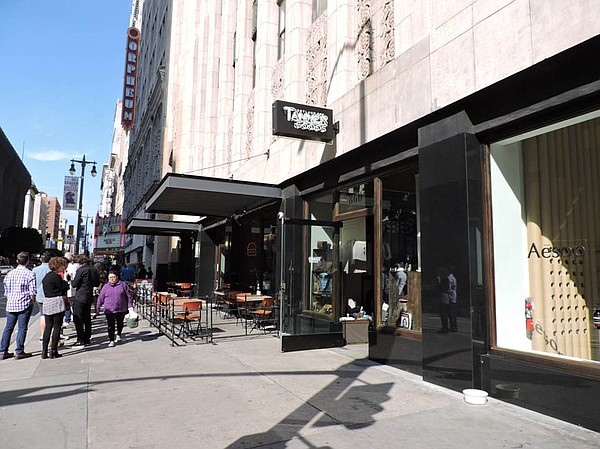 RETAIL
Downtown LA Retail Holds Promise, But No Guarantees for Success
Almost every night, bars and restaurants are hopping in downtown Los Angeles, a once-blighted area that is going through an unparalleled boom, but boutique retailers don't feel like they entirely share in the city's new prosperity.
Earlier this year, a group of boutiques in downtown's historic core neighborhood—Pale Violet, Curio, Haus of Love, and Buttons and Bows, a resale boutique co-owned by Karen Marley, daughter of reggae legend Bob Marley—all shuttered. It gave pause to the momentum that seemed to be driving a high-end boutique retail boom, taking place in a neighborhood that is experiencing a wave of housing construction and debuts of high-end bars and restaurants, such as Redbird, which has received critical praise and attracted gourmands from throughout the region.
There's a growing number of brands and retailers who see opportunity and tough setbacks in one of the fastest- growing neighborhoods in California. Some thrive. Many want to stay in the game in a neighborhood that many believe is on an irreversible path to blossoming.
Cool factor
Alejandro Rodriguez opened a flagship for his independent brand, Beautiful Fül, at 107 W. Fifth St. in downtown Los Angeles' Historic Core district in 2013. Earlier this year, almost all of the other high-end businesses closed on his street, which borders the city's Skid Row district.
After Curio, which was a storefront down from Beautiful Fül, shuttered, a dance studio and a high-end convenience store also closed. Rodriguez had the only anchor left on a street that is often traveled by fashionable young people as well as the homeless.
But Rodriguez wouldn't think of moving. Downtown Los Angeles is the only place in the region where he could rent out a 2,200-square-foot space in a historic building for a low price. The area is a small enough pool where an emerging brand such as his can make a statement, he said.
Also, running a shop in this part of town makes a statement. "Downtown Los Angeles is pushing ideas, culture and art. If you are here, it shows people that you are at the forefront of creative culture," Rodriguez said.
A lot of high-profile brands and retailers are attracted by the urban grit and early-20th-century high-rise buildings that are reminiscent of New York's East Village and Brooklyn, said Jay Luchs, a high-profile real estate broker for NewmarkGrubbKnightFrank. "They are vintage looking. They are authentic," Luchs said of the buildings in downtown's Historic Core district. It's a great place to showcase a brand.
Prices for a square foot of retail space in the most popular parts of downtown Los Angeles' Broadway range from $2 to $7, Luchs said. It will take time before downtown Los Angeles meets its potential, he said. "It doesn't happen overnight. You'd only go there now if you can handle not having 50 tenants next to you," he said. "It's not too late to be an innovator."
Long revitalization
In recent decades, developers have been renovating historic buildings in Los Angeles and affluent people have started moving in. Los Angeles City Councilman José Huizar helped found the Bringing Back Broadway initiative to help revive the Broadway thoroughfare that traverses the Fashion and Historic Core districts. In December 2013, the first of a new wave of high-end stores opened in downtown Los Angeles' Fashion District and Historic Core District.
Swedish brand Acne Studios opened a flagship store at Ninth and Broadway, at the edge of downtown Los Angeles' Fashion District. When the Ace Hotel opened a couple of blocks away from Acne, it seemed to confirm that the long-dormant area was burgeoning and the area around the Fashion District was a good investment.
Since then, a number of high-end stores have moved into the Fashion District. French brand A.P.C. is scheduled to open a boutique this summer in the Fashion District. New York's Oak multi-brand boutique opened across from Ace. Australian retailer BNKR is scheduled to open in late 2015 between the Ace and Acne.
It will be BNKR's first store in the United States, and Marco Lebel, the company's chief executive officer for America, was bullish.
"It is the fastest-growing neighborhood in Los Angeles, potentially [in] the country, and we are beyond excited to be a part of the Bring Back Broadway movement, which is organically developing daily," Lebel said. "For this reason, DTLA will also act as a strategic marketing vehicle for Australian Fashion Labels Ltd. in showcasing our retail concept to buyers and industry leaders."
Despite the headlines trumpeting high-end retailers coming to town, change has come too slowly for some retailers.
Eric Martin owns the Seven Points boutique at the Lady Liberty Building, located at 845 S. Los Angeles St. in the Fashion District. The boutique is housed in a storefront area near his showroom, The Park. He said his neighborhood is not ready for premium contemporary retail, which Seven Points offers.
"Do I think it's a gamble for the next 24 months? Absolutely. There's still not the clientele down here," he said.
Thinking outside the box
Downtown Los Angeles is unique, but shoppers are shoppers, said Kuo Yang, owner of Brigade LA, located at 510 W. Seventh St. For the past four years, he based his success on selling high-profile brands such as Diane von Furstenberg, Marc by Marc Jacobs and Diesel.
"Customers will seek us out for their favorite designers. Brigade provides designer names that put massive dollars in the marketplace," he said.
But running an independent, multi-brand boutique is tough.
"There have been layoffs and cutbacks. Walk my floor. You'll see that it's definitely not the inventory I once had," he said. Once more people move into downtown's pricy lofts, he believes that the shop will enjoy more business.
Carl Louisville spent more than a decade serving as the director for the flagship of the Prada fashion house on Rodeo Drive. But a few years ago he invested his life savings in opening a luxe store in what was then a grungy Art District at the edge of Los Angeles. He described it as "luxury in the raw" and recalled the typical reaction to his idea: "You're crazy."
When he opened Guerilla Atelier by selling refined European brands and U.S. designers such as Juliana Cho in a gritty setting, he found success. He said that his sales for the first quarter of 2015 increased 52 percent over last year.
Louisville said boutique retailers go out of business because they don't understand the unique sensibilities of the downtown resident.
"Downtown is not a place for anything that looks remotely like it could be something on the Westside. People are starving for a new experience. It was my intention that you would have a new experience of sight, sound and aromas," he said.
To give people something different, Louisville has hosted art shows from New York artists Knowledge Bennett and Karen Bystedt. He has piped in music from Hôtel Costes, aParis hotel with a luxe, boutique sensibility. Guerilla Atelier does offer its customers a little taste of the Westside, with its permanent shop-in-shop from the Santa Monica, Calif.–based shop Ron Robinson.
He said his business did not skip a beat when it moved from Third Street in the Art District to Hewitt Street. "It is what we tried to do without the hoopla," he said. "If high- end luxury restaurants can work in downtown Los Angeles, so can high-end luxury retail. This is destination retail."
No Season opened at 110 Winston St. in downtown Los Angeles in November. Emily and Keith Wilson, a brother-and-sister team, chose to stay open relatively late—until 9 p.m.—most nights. They stay open late because their neighborhood is populated by night birds. "It's a lunch, dinner and drinks crowd," Emily Watson said.
Downtown's toughest problem
Another issue frustrating boutique retail in Los Angeles is the district's massive homeless problem. According to media reports, Los Angeles County's homeless population increased 12 percent this year.
Julia Blake closed down her physical store for Pale Violet on the corner of Seventh and Spring in the Historic Core District in March because there were too many altercations with some Skid Row residents. "When you have young females working by themselves in the store, it's frightening when these aggressive people come in the store," she said. "It's hard to sell a $150 dress when people are smoking crack outside."
Blake, who lives in downtown Los Angeles, reopened Pale Violet as a pure-play e-commerce shop with offices in the Fashion District. "I do think I will have another store in downtown Los Angeles, maybe in five years," she said. "It will take time for it to develop. I love downtown. I live in this community. It was just bad timing for our business."
Brigham Yen, a real estate broker and editor of the widely read real estate blog "DTLA Rising," said that downtown Los Angeles' homeless problem has kept boutique retail from growing faster.
"It discourages people from wanting to walk in downtown," he said.
It also has pushed retailers to look for alternative spaces in neighborhoods such as South Park and the Financial District, which were built in a way that is less ideal for boutiques and retail, he contends.
"Downtown Los Angeles will be amazing one day and the undisputed commercial hub of the region," he said. "It will take a decade or more to get to that point."
RELATED STORIES