TRADE SHOWS
Capsule; New Styles, New Floor Layout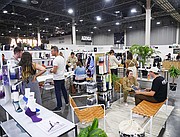 High-end streetwear, fashion, denim and environmentally sustainable fashions for men and women were among the categories on display at the Aug. 14–16 run of Capsule at the Sands Expo and Convention Center in Las Vegas.
Canada's Naked & Famous brand helped represent denim at the show. Lucid FC showed high-end streetwear. Action sports–friendly brands Captain Fin and Volcom were at the show. At Capsule, Volcom showed a collection of premium pieces taken from the brand's North American, European and Japanese lines, according to Todd Hymel, Volcom's chief executive officer. Also exhibiting, independent Los Angeles brand Rojas; DRKN, a high-end brand for people who play video and Internet games; and Daniel Patrick, a denim and fashion brand currently popular with reality-show stars and Internet tastemakers Kylie and Kendall Jenner and their friends. ADBD represented contemporary menswear. Also at the show were T-shirt brands Disco Tuesdays, inspired by a modern view of the 1970s disco scene, and Surf Is Dead, inspired by underground surf and street culture.
Los Angeles–headquartered Groceries Apparel previewed its garments made with a nontoxic vegetable dye. Matthew Boelk, the label's cofounder and vice president, said that the vegetable dye will resist fading longer and allow the label to offer more colorways. He contended that the new line will be more accessibly priced than other ecologically sustainable lines.
Since Capsule is wedged between two trade shows focused on men's styles—Liberty Fashion & Lifestyle Fairs and Agenda—Boelk worried that some women's retailers did not make the effort to trek through the sprawling halls of men's fashions to find Capsule. He estimated that retail traffic and business was even with the Capsule show in August 2016.
Chris Corrado, Capsule's show director, said that the show's buyer traffic and vendors exhibiting were even with the Capsule's Las Vegas show in February. (Capsule and Agenda are under the Reed Expositions portfolio of trade shows. The two shows also have a marketing alliance with Liberty called Modern Assembly.)
Rob Jungmann of the Jungmaven label displayed his brand's hemp T-shirts at Capsule. He estimated that he saw an uptick in Japanese buyers at the show. Other retailers at the show included Azalea from San Francisco, Beaver boutique of Tokyo, Peace Valley from Boise and Artisan De Luxe from Columbus, Ohio.
At the show, Capsule management worked with media and retail platform High Snobiety to assemble Under The Radar, a display of emerging brands such as 1800-Paradise, Chateau, Good Cmpny and eyewear label Pawaka. Corrado, Capsule's show director, also said that the show increased space for Capsule Market Square, the show's cash-and-carry section.
The direction of the show floor was changed, too. The show's main aisle cut a central path to the adjacent Agenda show. Corrado said that the central aisle developed a greater sense of community between the shows.
Paz Eliza Padilla and Lauren Berina of the Viariche stylist group shopped Capsule. Trends they saw included a revival of 1980s-style track suits and the popularity of the color pink for men. "Real men wear pink now," Padilla said. "It was in accessories and shoes. There were mauves, rose tones and magentas."