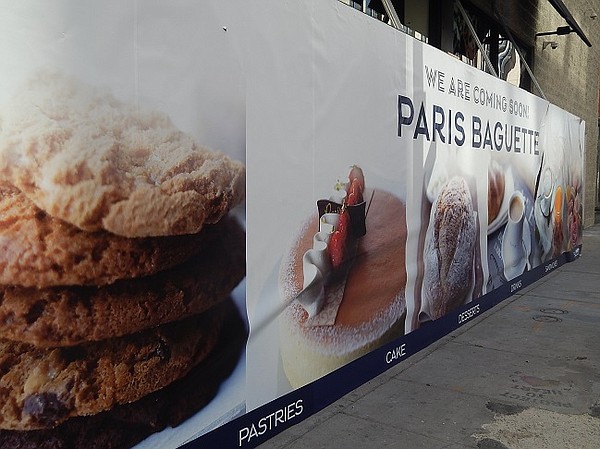 RETAIL
Paris Baguette Coming to the Fashion District
On the corner of Ninth and Los Angeles streets, a huge wrap-around sign heralds the arrival of Paris Baguette, an international chain of cafes that has a wide selection of coffees, juices, incredible pastries, soups, salads and sandwiches.
There are a handful of Paris Baguettes scattered around Los Angeles, such as Koreatown, and in surrounding areas including Redondo Beach, Glendale, Encino, Santa Anita, Cerritos and Arcadia. But this is the first Paris Baguette destined for downtown Los Angeles.
It is occupying part of the Fashion Corner boutique, which has shrunk its floor plan, put up a new wall and has made room for the Paris Baguette, which, at nearly 1,500 square feet, is expected to open in February.
Paris Baguette got its start in South Korea in 1945 when chef Chang-sung Hur introduced bread to South Korea after World War II. As the company evolved, it opened up the first Paris Baguette in Seoul in 1988. From there the chain has spread through franchises. There are now more than 3,000 locations worldwide.
The Paris Baguette location is convenient for showroom reps who want to order food for their clients or grab a bite for themselves. Different items on the menu include red-bean brioche, green tea chiffon cake, tiramisu lady fingers, egg and cheese croissants, strawberry kale salad, Thai noodle salad and soup bowls in bread.