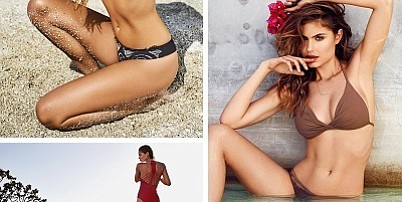 DESIGNER VIEW POINT
Swim Designers Forecast Cruise '18 Trends
From travel lust to Wonder Woman–inspired power suits, beachwear is being influenced by all manner of pop culture. This season, we caught up with designers from Bondi Beach to Lima, Peru, and the shores of SoCal to find out the latest trends for Cruise '18. Femininity and floral prints are strong influences this season, and the '80s and high-cut legs are back. Sporty Bond Girl–inspired suits are all the rage, and the sexy one-piece is the "must-have" suit of the season. Swimwear is taken to new dimensions with innovative textures, embroidery and metallics. And multipurpose beach-and resortwear go from the beach to the bar to the gym to poolside. Here are the trends of the season from a designer point-of-view.
FEMME & FLORAL
"I love how girly everything is looking and also '90's fits!" said Lolli Swim designer/founder Vy Nguyen, who added that feminine silhouettes that really flatter all figures are directional. "Lolli is very flirty and feminine this Resort," Nguyen added. "We're doing some vintage florals mixed in with blush and nude tones." Nguyen channeled California beach babes and their golden glows as her inspiration this season. "I loved watching 'Gidget' and all the beach bombshell movies with my sister growing up. The music, the style of hair and just everything about that era inspires me," she added.
Saha's "Mirage" 2018 Resort collection explores exotic cultures of the world with vibrant colors and textures. "Feminine floral prints, paisleys and animal textures—exotic and tropical" are key trends, according to Saha designer Alejandra Londoño. The most exciting new development in swimwear, Londoño said, are high cuts, solid exotic colors, feminine prints and long-sleeved swimwear.
Floral prints are also key for Tori Praver Swimwear. "We are standing for elevated florals and batik prints that are timeless and sexy," said Tori Praver Swimwear Creative Director Summer Rapp. The color palette this season is sophisticated and elegant in palm, driftwood, indigo, Bali sky, pink, and black and white. For cover-ups and accessories the concept of beach to street is key, Rapp said. "We built our items around what our girl feels most feminine and naturally beautiful in, and it's so important that she can go from beach to street in the same outfit!" she said.
BACK TO THE '80s!
"High-rise '80s bottoms" are the "must-have" item for Cruise '18, said Tess Hamilton, co-owner/designer of Kaohs. She creates the Los Angeles–based collection with partner Ali Hoffmann, who is the brand's production and sales manager. The Kaohs Cruise/Resort collection includes everything from classic, timeless bikinis to '80s bright colors and prints as well as fun, new textures. "This is new for Kaohs, so I think people will be really excited to get something fresh from us," Hamilton said. The hottest women's swim trends for Cruise '18, Hamilton said, are "textured bikinis, '80s bright colors as well as '80s-inspired styles such as bottoms that hit high on your hips and tops with wire."
NATURE MADE
"The Greenlee collection this season was inspired by our love for all things Tulum," said designer Casey W. Greenlee. "From the light turquoise waters, the native pink dahlias to the naturally colorful landscapes, nature always makes the perfect muse," she added.
The hottest swim trends for Cruise '18, Greenlee said, include sporty, sexy silhouettes in geometric prints and pretty pastels—think Bond Girl chic with long sleeves and zippers accompanying unexpected feminine prints. Pink is a big color for the season, Greenlee said, along with fuller-cut bottom styles. "Customers are stocking their bikini drawers with both cheeky and more-conservative options," she said. The "must-have" item for Cruise '18, Greenlee said, is "the perfect one-piece…or two...or three…"
BEACH TO STREET
"Our 2018 collection was inspired by the desire to escape everyday life," said Mauricio Esquenazi, president and creative director of Peixoto.
"Whether you're off to the pool for the day or jet-setting around the globe, we are inspired by jazzing up everyday vibes into fresh, free designs," he said. Key trends for the season, Esquenazi said, are triangles with interesting designs, textured fabrics, one-piece suits, easy and classic silhouettes, and more-muted and earth-toned colors. One of the most exciting new developments this season is versatility. "Swimsuits are not just going in the pool anymore," Esquenazi said. "They are well-designed, beautifully structured pieces of clothing. We see more textures and more 'beach-to-street' capabilities this year. The swimsuit has matured."
According to Aguaclara Creative Director Liliana Villalobos, sexy, sophisticated off-the-shoulder tops, one-pieces, long dresses and caftans are key trends of the season. "Strong colors and full contrasts in very advanced digital prints [are also key trends]. Very elaborated embroidery is back," she said. In swimwear today there are no limits, Villalobos said. "[It's] very exciting that everything is possible," she said, adding that long sleeves, "unthinkable" necklines, shapes and materials can be used. "The swimwear business gets stronger every time and for these reasons [it's the] most versatile business that joins the resort, beach life and summer days and nights."
SUPERFICIAL
"The most exciting new development has to be the incredibly rich palette of fabric textures," said Dale McCarthy, founder and creative director of Bondi Born. "For Cruise '18, I have incorporated velvet, metallic, paper-feel, sculpting, woven jacquards. It's a designer's dream," she added. Key trends in the Bondi Born collection this season include minimalist bodies with sophisticated trims, tropical graphics, luxury metallic Lycra and a complementary burnt-orange palette. Clean, minimal lines, she said, are the most directional going forward. Ruffles and 3-D appliqués are big this year, according to Courtney Allegra. "I'm incorporating lots of frills, braids and 3-D elements to my collection," the designer said. Allegra's Cruise '18 line is inspired by the Caribbean and includes vibrant colors, original prints, fun silhouettes and textures. "Even though I've incorporated velvet fabrics into past lines, this year lots of swimwear companies are offering velvet swim," Allegra said. Key cover-ups and accessories include anything stretch mesh or chiffon such as rompers, blouses and shifts, which have a more romantic feel.
POWER PLAYER
"Sport is definitely here for a while! It's got a little '90s slant with track looks, color blocking and high-cut one-pieces," said Le Swim founder/designer Adriana Caras. Femininity is also key. "Female power is so pervasive right now—it's a great moment with women banding together. My collection, 'Parallel Lines | A Butterfly Story,' has traces of all of that—embracing your femininity and strength," she said. Pop culture and current events are indeed influencing fashion right now. "I think 'Wonder Woman' is pop culture reflecting the state of mind women are in right now. For many reasons, the message is clear: We are women. We are strong! We will own our strength and femininity!"
TRAVEL LUST
"The growing popularity of travel blogging has really sparked the imagination of the consumer and has inspired her to plan her own escapes—whether to far-off destinations or even a day-trip getaway," said Christine Geiger, fashion swim designer for Jantzen and Laundry by Shelli Segal. "People have become more interested in experiences, and we design swimsuits that embody the spirit of that travel lust so that we can become an integral part of those experiences," she added. "Our consumer wants to be noticed and wears prints that capture the imagination and romance of travel," Geiger said. Pretty, feminine ruffles are directional she said, and the hottest trends for the season include lacing/strapping, sleeve details, cold shoulders, hints of metallic, tropical prints, sexy one-pieces and shades of "Greenery," Pantone's Color of the Year.
The 2018 Luli Fama collection is inspired by "all things Cuba—the people, the culture, the architecture and the beaches," said founder Luli Hanimian. "It is a gem in the Caribbean with so much untouched beauty and such a happy atmosphere that it was the perfect inspiration for this year. Being from Cuba myself, it has always inspired me for our swim, but this year we really went deeper into my roots," she said. Some of the designer's favorite trends this season include cut-outs, textured ribbed fabrics, lacing and flirty but ultra-sexy pieces. "We are known as a brand for our bold colors and prints, but this season we have included nudes, pastels and neutrals, and the outcome has been amazing," she said.
AU NATUREL
"The hottest swim and beachwear trends we are seeing for Cruise 2018 are crop tops, high-cut one-pieces and string bikinis," said Tee Ink designer Sinead James, who added that the brand is digging string bikinis in washed, muted tones such as blush, navy, gray and nude. "A little vintage throw-back goes a long way," James said. "We are enjoying the neutrality of the color nude in swim this season." Key inspirations for the collection include minimalist shapes, printed triangles and crop tops paired with high-cut '80s-inspired briefs or cheeky Brazilian bikini bottoms for the ultimate poolside look, she said. "The 'must-have' item for the season, James said, is the '80s-inspired, high-cut, high-waist brief. "This retro-inspired silhouette has made a huge comeback on the runways. It is the perfect stylish cut to accentuate your waist," she added. Innovative cover-ups in transparent and sheer fabrics provide different types of layering, such as sheer beach pants, wrap tops, capes and kimonos. "Palm-leaf woven beach bags are a must," she said.
THE ONE-PIECE
"I think the new hot buzz over sexy one-pieces is all the rave," said Amber Delecce-Forge, creative director of PilyQ. "Everyone is now trying new ways to create a one-piece style that has never been done, simple, unique, cool fabrics, cut-outs etc., etc.," she said. For Cruise '18, "everyone is getting 'back to basics,'" Delecce-Forge said. "We feel high-necks are slowing down, triangles are doing better and one-pieces—especially sexy ones—are the hottest thing right now." The brand is currently doing well with updated versions of color blocking, laces and macramé. Going forward, Delecce-Forge said, key trends include muted earth tones, simple details and textured fabrics. "Our must-haves are all lace-inspired this year in basic black-and-white colors. Everyone hitting the beach has to have a lace cover-up, an easy pair of pull-on shorts and a sexy one-piece," she said.
CLEAN & CHIC
"We were inspired by seaside simplicity, and you'll be able to see this in our collection's use of fresh, classic colors as well as a new luxe textured ivory fabric," said Jessica Tracy-Schulz, cofounder/designer of Kore Swim, who worked with New Orleans–based artist Frances Beck to create an oyster print to add a coastal feel to the collection. "The print is playful yet subtle and stirs up longings for an après-sea happy hour filled with oysters and champagne," she explained. Key trends for the season Tracy-Schulz said are higher-cut legs, textured fabrics, swimwear with ties and one-pieces. "We've been focusing on one-pieces for quite some time, and it's exciting to see previously 'bikini-only' customers taking the plunge and buying their first one-piece," Tracy-Schulz said. "We're also seeing a lot of really cool new textured fabrics that are elevating swimwear from beachwear to ready-to-wear." Resortwear that can be worn from the pool to pre-dinner cocktails is also important, she said. "Our new cover-ups and resortwear this season are simple and easy to wear and are available in two great fabric options—classic linen and a beautiful, rich Italian sheer knit," she said.