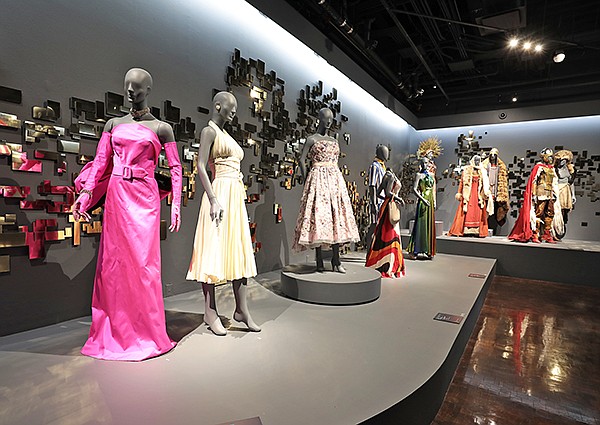 FASHION SHOWCASE
FIDM Museum Showcases Film Costuming as Ruth E. Carter Makes History
On March 4, the Fashion Institute of Design & Merchandising's FIDM Museum hosted its annual preview of the "Art of Costume Design in Film" ahead of the March 12 Academy Awards ceremony. During this year's Oscars, "Black Panther: Wakanda Forever" designer Ruth E. Carter made history by becoming the first Black woman to win two Oscars when she took home the award for costume design. Carter won her first Oscar in 2019 for 2018's "Black Panther."
Carter's work from the "Black Panther" sequel debuted at the FIDM Museum with other nominees from the costume-design category including "Babylon" by Mary Zophres, "Elvis" by Catherine Martin, "Everything Everywhere All at Once" by Shirley Kurata and "Mrs. Harris Goes to Paris" by Jenny Beavan in an exhibition that is open to the public until May 6.
Now in its 30th year at the FIDM Museum, the "Art of Costume Design in Film" exhibition also featured works from "Tár," which was nominated for Best Picture and whose costumes were designed by Bina Daigeler. Additional costumes were featured from films and designers including "Avatar: The Way of Water" by Deborah Scott, "Downton Abbey: A New Era" by Anna Robbins and Maja Meschede, "Glass Onion: A Knives Out Mystery" by Jenny Eagan, "Hocus Pocus 2" by Salvador Pérez Jr., "Nope" by Alex Bovaird and "The Woman King" by Gersha Phillips.
The exhibition also highlighted a FIDM-Netflix collaboration that allowed four graduates from the school's Advanced Fashion Design program to create custom ready-to-wear styles that celebrated the release of "The School for Good and Evil." Created using the themes of "Never" and "Ever," the fashions were inspired by the film's costumes, which were designed by Renée Ehrlich Kalfus and worn by influencers to the movie's red-carpet premiere in Los Angeles. The designers and the influencers whom they dressed were Yongjian "Tomy" Huang and Kevin Li, Ethan Martin and Raasi Bommu, Fabian Renteria and Vanessa Sirias, and Sasha Swedlund and Storm deBarge.