IMPORT & EXPORT
By Deborah Belgum | March 8, 2018
After President Trump signed an order on March 8 to impose tariffs on imported aluminum and steel, apparel makers were bracing for Europe to slap retaliatory tariffs on a variety of apparel coming from the United States.
The Obama administration has been talking about the Trans-Pacific Partnership trade agreement ever since the president arrived in office in 2009.
Customs officials said they saw a 25 percent increase in the number of counterfeit goods they confiscated last year at the nation's ports and at the border.
After months of negotiations, China has agreed to put a stop to the export subsidies it has been granting for years to a host of industries, giving them an unfair advantage when competing with other companies around the world.
Jonathan Gold of the National Retail Federation has been appointed to a U.S. Department of Commerce committee to advise on supply-chain issues that affect the international competitiveness of the nation's businesses.
In the whirlwind of election-year debates, some politicians have been taking a protectionist attitude and threatening to raise U.S. tariffs and erect trade barriers.
An elaborate scheme that involved bringing in Chinese-made apparel from Hong Kong through Los Angeles ports, allegedly destined for Mexico but ending up in the United States, will result in Hong Kong sharing some of the $20.5 million worth of forfeited assets collected during the investigation.
U.S. cargo-container imports for the first half of this year are expected to be nearly flat over last year as the economy inches along.
In 2010, JBlu Inc., a longtime Los Angeles clothing company, imported some 500,000 pairs of blue jeans from China in 11 shipments through the Port of Long Beach—all headed for retail stores around the country.
The U.S. dollar will remain strong until the middle of this year, hampering U.S. exports but boosting a wave of imports into U.S. ports.
China, with a population of 1.4 billion people, is a burgeoning consumer market where shoppers are hungry for American clothing labels.
Congress may not vote on the Trans-Pacific Partnership deal until sometime after the November presidential election.
California's attorney general has won a settlement from a clothing factory in India accused of stealing intellectual property from U.S. software companies.
China's exports of textiles and apparel to the United States saw a 1.5 percent increase over last year, meaning that the nation of 1.35 billion people and nearly 20,000 apparel and textile factories sent $43 billion worth of goods to the United States for the 12 months ending Oct. 31.
The largest container ship ever to call in the United States will be arriving at three California ports to test the waters on how the facilities handle a megaship of this size.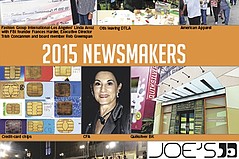 The people and events that made the news in 2015.