IMPORT & EXPORT
By Deborah Belgum | August 13, 2015
Despite massive congestion problems plaguing the West Coast ports earlier this year, cargo-container volumes for imported goods are expected to rise 4.2 percent this year compared with last year.
As spring-like weather entices consumers out of their shells to shop, the number of cargo containers being shipped across the ocean to the nation's ports is expected to increase by as much as 12.4 percent in March.
The steep 38 percent tariff the European Union slapped on U.S.-made women's jeans last year is set to expire on April 30, but no one is sure whether the tariff will disappear or be extended for another year.
One nugget of good news for apparel and textile importers is that shipping rates along the Asia–to–Los Angeles route should remain at bargain-basement prices for the next few years.
The Los Angeles–centric William Rast label hit Canada last year and was in all of the Hudson's Bay department stores, now it is headed to Europe, where it will be in stores in Germany, Switzerland, England and Italy.
The United States has free-trade agreements with 20 countries around the world, but only 14 percent of the apparel imported into the United States actually takes advantage of them.
During the first half of this year, cargo-container activity at the nation's ports is expected to inch up 4.3 percent over last year, according to the recently released "Global Port Tracker" report, prepared every month for the National Retail Federation.
After more than a decade running his own customs consulting business in Los Angeles, Tom Gould is joining Sandler, Travis & Rosenberg, a law firm that regularly advises apparel and textile companies in California.
If cargo container volume at the nation's ports is any indication, 2014 should be a good year for retailers.
Apparel production in the United States saw an 8.5 percent jump in 2012 over 2011 as American shoppers focused more on buying domestically made clothing.
The United States has free-trade agreements with 20 countries. But if it finishes up negotiating two major free-trade accords with Europe and countries around the Pacific, it will have free trade with another 34.
Consumers loosened their purse strings this year and spent nearly 3.5 percent more on apparel and textile imports than last year.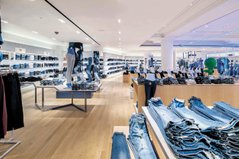 At a time when the Obama administration has been trying to boost U.S. exports overseas, Europe this spring put a crimp in the president's initiative.
Texworld USA, the biannual fabric show in New York, has struck a partnership with Tradegood, the online B2B sourcing site founded by Intertek.
Law firm Sandler, Travis & Rosenberg has won a ruling in the United Kingdom that exempts Los Angeles–based Hudson Clothing from paying a steep 38 percent tariff on its women's premium denim jeans made in the United States.
Gary Lee Moore has stepped in as the interim executive director of the Port of Los Angeles, replacing Executive Director Geraldine Knatz, who earlier announced she would be retiring at the end of the year.