IMPORT & EXPORT
By Deborah Belgum | June 1, 2017
The demise of a free-trade agreement between the United States and several Asian countries is breathing new life into the Guatemalan apparel industry.
After years of negotiating a trade agreement between the United States and 11 other Pacific Rim countries, the U.S. government released the final text outlining the deal.
It seems like only yesterday that the ports of Los Angeles and Long Beach were clogged with container ships after contract negotiations with the workers of the International Longshore and Warehouse Union dragged on for nine months.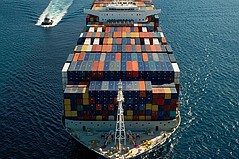 After eight years of negotiations that took place in various cities around the world, trade negotiators from 11 Pacific Rim countries and the United States finally have agreed to a trade accord that will affect 40 percent of the world's economy.
Southern California's two major ports in Los Angeles and Long Beach have seen a revival of activity this summer as shippers return to the West Coast after a major port congestion problem earlier this year.
Despite massive congestion problems plaguing the West Coast ports earlier this year, cargo-container volumes for imported goods are expected to rise 4.2 percent this year compared with last year.
Cargo volumes at the nation's ports are seeing a healthy upswing as retailers start stocking their shelves for the Back-to-School season.
One of the biggest free-trade agreements ever negotiated by the United States could be a done deal by the end of this year. But it is still unclear how the Trans-Pacific Partnership will affect textile and apparel makers that manufacture in the United States.
In May, the Port of Long Beach saw its container volumes jump 4.8 percent over the same month last year while the Port of Los Angeles said its container volumes barely budged, rising only 0.8 percent in May over the previous year.
Nine months after agents busted a long-running Mexican drug money laundering operation in the Los Angeles Fashion District, an underwear importer has pleaded guilty to several offenses linked to the scheme.
Members of the Pacific Maritime Association (PMA), which represents shipping lines and terminal operators, and International Longshore & Warehouse Union, which represents Longshore workers, voted to ratify a new five-year contract.
Hundreds of apparel importers are recalibrating their logistics plans before the next big shipping season hits in July.
SAE-A, the largest apparel manufacturing company in South Korea, has opened a cotton spinning mill in Costa Rica, which is the first for the Central American country.
Europe has slightly increased a retaliatory tariff that it imposes on women's blue jeans imported from the United States.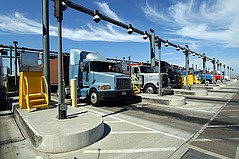 More than 200 truckers tired of being classified as independent contractors rather than full-time employees walked off the job and have been picketing around port terminals, rail yards and customer warehouses.