IMPORT & EXPORT
By Deborah Belgum | July 17, 2014
With contract negotiations still going on with West Coast longshore workers, apparel importers and retailers were pushing to land their goods before a potential work stoppage or port strike takes place.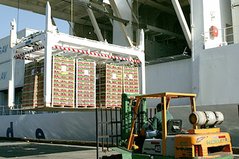 Despite a federal budget cut to ports and other transportation entities, retail cargo volumes imported into the United States are expected to inch up gradually.
Just because apparel is made overseas, it doesn't mean there aren't a lot of U.S. jobs that go into making a label.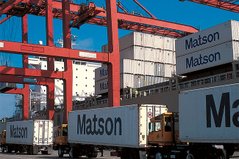 After months of negotiations, a potentially crippling strike at 15 East Coast and Gulf Coast ports has been avoided after negotiators representing longshore workers and shipping companies agreed to a tentative deal on a new six-year contract.
After more than two years of negotiations, the clerical workers at the ports of Los Angeles and Long Beach will not be striking again this year.
U.S. consumers played it cautious last year when it came to clothing purchases, leading to a slight dip in apparel imports in 2012, according to the U.S. Department of Commerce.
Cargo-container volumes at the ports of Los Angeles and Long Beach have been on an even keel lately as the economy slowly recovers.
Last year, Josh Levine launched his brand, Frame Denim, and landed orders from Ron Herman and Net-a-Porter for his Los Angeles–based,high-end denim line. ...
After the U.S. import ban was lifted, the American Apparel & Footwear Association was bombarded with inquiries about Myanmar. "We have gotten interest from all sorts of people," said Steve Lamar, executive vice president of the apparel and footwear trade group.
Previous Next