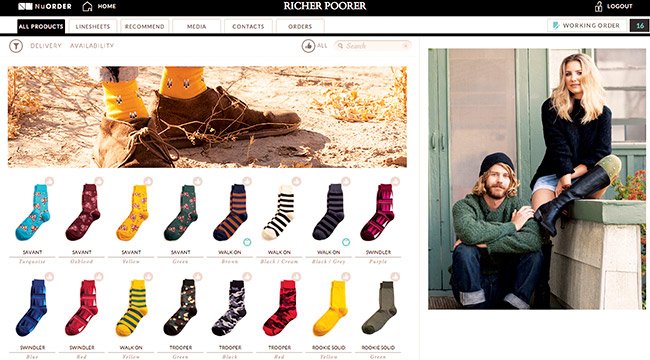 TECHNOLOGY
By Rhea Cortado | November 21, 2013
Walk down the trade-show aisles 10 years ago, and most likely every desk had a stack of paper order forms. Today, it's more common to see customers tapping an iPad to take notes and place orders through an application such as NuOrder.
In a twist on the flash-sale model, Australian designer Bruno Schiavi has introduced a new e-commerce site, One strong> a Day, which will offer one new limited-edition strong> for sale every day.
Pricing is one of the key parts of the retail business. Two companies that track pricing and give market intelligence on pricing joined forces recently.
As the economy recovers, companies are looking to invest in new technology to maximize efficiency, stay ahead of competitors or manage their omni-channel retail operations.
When Lacoste decided to launch e-commerce in China, the international brand enlisted the help of two technology companies, Burlington, Mass.–based Demandware Inc. and New York–based Accenture.
Designers and engineers in the Nike Sport Research Lab
Yunique Solutions, the creator of YuniquePLM product lifecycle management software, launched YuSnap, an iOS mobile app that will let users snap photos and synchronize them with YuniquePLM.
Technology solution–based company Lectra announced its revamped "Design to Cost" approach to product development.
American Eagle Outfitters has opened its first corporate offices in San Francisco to reinforce the company's omni-channel strategy.
Shop Hers is a luxury e-commerce resale business that recently went international.
"The First Annual Future of Stores Study," said that retailers are not moving quickly enough to stay ahead of the change.
Color evaluation, control and management are on the agenda at an upcoming two-day workshop hosted by the American Association of Textile Chemists and Colorists.
X-Rite Inc. and its subsidiary Pantone have a new compact spectrophotometer that can help apparel makers efficiently measure color accuracy across the supply chain.
Iselin, N.J.–based supply-chain collaboration solutions provider ecVision has partnered with product-testing company Tüv Süd
The Los Angeles Fashion District Business Improvement District (BID) has released a mobile app
Campbell, Calif.–based software solutions provider Centric Software will present case studies