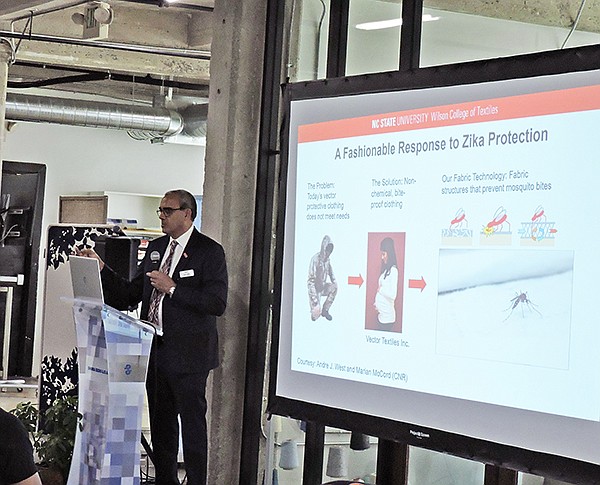 TECHNOLOGY
By Dorothy Crouch | October 31, 2019
Within its new space, which opened in March, Japanese machine manufacturer Shima Seiki hosted its second G3D seminar in its fresh showroom. The first event in the Arts District space was held earlier this year, focused on a "Yarn to Shelf" manufacturing approach to apparel, while the recent session, hosted Oct. 23 and 24, adhered to the theme "Knitify the World."
Since its founding in 2015 by Leandrew Robinson, Ismail Maiyegun and Yaw Owusu-Barimah, Oakland, Calif., drop-ship technology company Hingeto has been revolutionizing direct-to-consumer apparel manufacturing. Drop-ship supply-chain management allows retailers to order only the amount of goods that customers are demanding.
Across the street from the hipster hangout The Line Los Angeles in L.A.'s Koreatown area, a group of supply-chain industry veterans are working on a way to mesh their established practices of their business with the new world of blockchain.
Digital textile-printing-technology provider Kornit Digital has announced its latest offering, Kornit Discover—events that include educational workshops, networking opportunities, product demonstrations and sessions with guest speakers.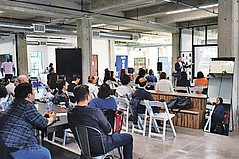 Shima Seiki, the nearly 60-year-old Japanese machine manufacturer and technology firm, recently unveiled its new showroom in the Arts District where it can take advantage of the neighborhood's roots in the apparel-manufacturing industry and its place in fashion's future.
Marketing professionals in retail and consumer goods are harvesting tons of data to monitor consumer habits, but that data often remains unorganized and unused.
With counterfeit goods estimated to carve out $461 billion in global trade, technology firm Entrupy has an anti-counterfeiting solution that proves authenticity for luxury resale outlets and decreases return fraud.
Shifting consumer behavior has left many retailers and brands wondering how to develop the perfect formula for successfully engaging shoppers.
Following the January announcement that it would invest in producing greener products, Amsterdam-based RFID-product and IoT-solutions provider Smartrac,while exhibiting at the17th edition of LogiMAT, unveiledits plan to add environmentally friendly tag options to its offerings.
Researchers at the University of Maryland have developed a new fabric that would make your body cooler when the weather warms up.
Social-commerce company Poshmark released its first review of the social-retail environment in a report called "A Year in Social Commerce."
January 24, 2019
|
By Paula Levy, Contributing Writer
The National Retail Federation's Big Show at the Javits Center in New York, which ran Jan. 13–15, was bustling with more than 40,000 retailers and brands walking the aisles while the other prominent attendees included multiple variations of robots.
Creating a line of clothing that is nontoxic, hypoallergenic, antimicrobial, soft, breathable and ecologically sound was the goal of Saint Haven's Jacqueline Sacks, but once she researched the process of apparel production, she wanted to do more.
January 17, 2019
|
By Paula Levy, Contributing Writer
Mobilizing the shop floor is one of manufacturing's top initiatives as companies look to gain efficiencies and speed to market throughout the supply chain as well as improve the quality of the workforce in order to meet consumer demands.
During the National Retail Federation's NRF 2019: Retail's Big Show,held at the Javits Center in Manhattan Jan. 13–15, San Francisco's CRM-focused software provider Salesforce took the opportunity to unveil new offerings.
Coats, the British industrial-thread manufacturer who has been on an acquisition binge, recently acquired for $12 million ThreadSol, a cloud-based digital-applications provider, which becomes a part of Coats Global Services.