TECHNOLOGY
By Alison A. Nieder | August 10, 2017
Precise Software, a Minnesota-based company that provides software solutions to the decorated apparel market, has merged with Open Systems, a provider of business software solutions such as enterprise resource planning (ERP) and customer-relationship management (CRM).
Los Angeles–based technology and software company Tukatech is increasing its offerings for the design community.
Campbell, Calif.–based technology solutions provider Centric Software has launched the Centric Visual Innovation Platform, a collection of digital boards for mobile devices such as the iPad and the iPhone, as well as large-scale, touch-screen televisions.
Technology company Google recently announced new angles to its Google Assistant. With a voice command, Google Assistant can offer help with a number of tasks, such as making phone calls, playing music and looking up information, similar to Apple's Siri and Amazon's Echo.
Don Nunnari first began working with True Religion when the premium-denim brand was in its infancy.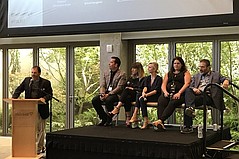 May 11, 2017
|
By Alyson Bender, Contributing Writer
Profitability is a powerful weapon for a company, "to be used thoughtfully and consciously," said Rebecca Kaden, a partner at Howard Shultz's capital venture firm, Maveron.
New York–based Simparel Inc. has acquired Shopfloor Support LLC, an Alpharetta, Ga.–based solution that collects production data and provides real-time visibility on the factory floor.
Two seasoned apparel executives—one with Kate Spade and the other with New Zealand active wool apparel brand Icebreaker—gave their insight into implementing and using Centric Software's product lifecycle management solutions at an event hosted by the Campbell, Calif.–based software company.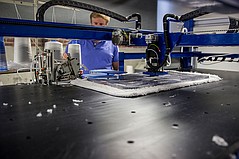 Many futurists predict a giant shakeup in the jobs market in the near future as bus drivers, construction workers, paralegals and pharmaceutical workers are forecast to be pushed out of their gigs by job candidates who don't have a heartbeat. They will be replaced by robots and artificial intelligence.
How many times have customers praised a designer for a pair of perfectly fitted blue jeans and then snapped them up without glancing at the price?
Nordstrom is switching to a new cloud-based point-of-sale system run by technology-solutions provider Infor.
The secret to making the perfect suit involves a certain harmony; it balances how a suit fits the wearer, the materials used in the suit and its overall design/look, according to Ray Li.
February 16, 2017
|
By Caitlin Kelly, Contributing Writer
Whether you're a small startup designer or a long-established global brand, digital technology is becoming an ever more essential part of the fashion supply chain, industry experts agree.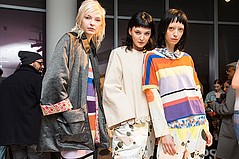 February 16, 2017
|
By Natalie Zfat, Contributing Writer
Epson< hosted its third annual "Digital Couture" New York Fashion Week event on Feb. 7 at Chelsea's IAC building, showcasing 13 design teams from North and Latin America.
The discussion of technology and textiles tends to focus on new fiber developments or automation within a fabric mill. Los Angeles–based printer and full-package production house C-Print has introduced FabFad, a new way to bring tech into the textile-buying process.
It was a year of investment and acquisitions in the technology world with several major deals going down in printing technology, cloud-based applications and software applications.