TECHNOLOGY
By Alison A. Nieder | March 23, 2017
Nordstrom is switching to a new cloud-based point-of-sale system run by technology-solutions provider Infor.
The founders of Sensoria Inc. believe that clothing can be the next wave of "ultra-personal computing" and have created a collection of apparel featuring embedded sensors that connect to an app that tracks data such as activity type, heart rate, gait and in-footwear pressure to the user.
Members of the U.S. apparel industry turned out recently at a demonstration of a new machine that combines the functions of a spinning machine and a knitting machine.
Electronics For Imaging Inc., a printing technology firm based in Fremont, Calif., has acquired Israel-based design software firm Optitex Ltd. for approximately $52.8 million.
Commercial printing solutions provider Kornit Digital North American is preparing to begin shipping its Vulcan system.
"Project Runway" star Tim Gunn will be speaking about the convergence of fashion and technology at Gerber Technology's Ideation technology conference in Miami Beach, Fla.
Retailers scrambling to enter the omni-channel world may already be behind their competitors.
Los Angeles–based technology solutions provider Tuka­tech Inc. named Marta Maiandi director of Tukatech Europe.
Epson Italia S.p.A., the Italian subsidiary of printing company Epson, is acquiring a 100 percent stake in the Italian textile printing business Fratelli Robustelli S.r.l.
Nearly 60 percent of shoppers say they would buy more often if they could be assured of consistent fit, according to a recently released study by Body Labs, a New York–based company that creates and customises 3-D models of the human body.
Under Armour launched its first mobile app created to mix shopping with its Under Armour Connected Fitness platform, which includes several applications: UA Record, MapMyFitness, Endomondo and MyFitnessPal.
San Jose, Calif.–based enterprise resource planning (ERP) and omni-channel software provider NetSuite Inc. has a new solution designed specifically for apparel and accessories retailers.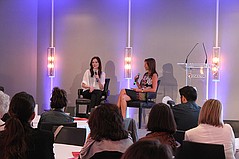 June 9, 2016
|
By Alyson Bender, Contributing Writer
Before the World Wide Web, marketing was relatively simple. Companies chose their paths and consumers naturally followed because, frankly, they did not have another option. But today—with real-time feedback, increasing transparency in supply chains and sponsored content—consumers are more educated and are calling the shots about what they want to buy and when they want to buy it.
AIMS360 customers, the LA-based technology company has covered quite a bit of ground, from breaking down batch processes to making EDI (electronic data interchange) more efficient to tips for creating business intelligence reports and pivot tables using AIMS360 software.
Sean Finnigan, vice president of program services for Teamwork Retail, was speaking at "Take It to the Next Level: Empowering Retailers Through Technology," an all-day event on May 10 at the Old Ranch Country Club in Seal Beach, Calif., hosted by One Step Retail Solutions.
New York–based Simparel Inc. named Lana Cain Krauter to its board of directors. Krauter's résumé includes holding executive positions at JCPenney, Sears, Bealls and Goody's during her more than 30-year career in retail.