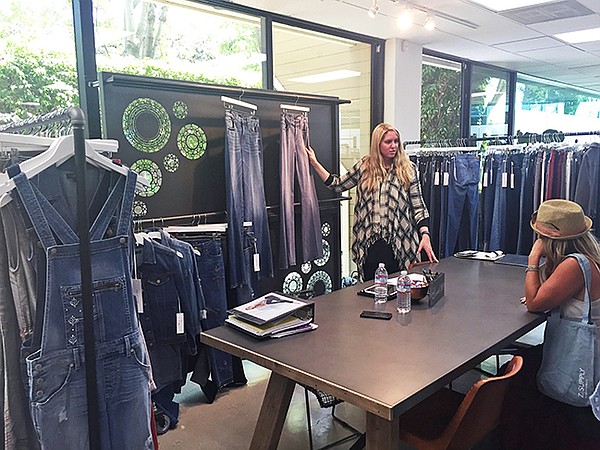 OC MIX
OC Mix: Regional Trade Show Bows in Irvine, Calif., With Contemporary, Swim Brands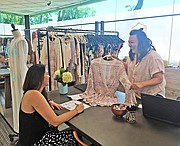 A small group of Southern California fashion and accessories labels hosted OC Mix, a mini trade show held April 18–19 in a space within the Irvine, Calif., headquarters of Z Supply LLC.
In addition to Z Supply's own labels—Rag Poets, Others Follow, Black Swan, White Crow and Z Supply—exhibitors included Wildfox, L*Space by Monica Wise, Splendid, Herschel Supply Co., Chaser, Mila, Lucy Love, Some Days Lovin, Level 99, Minkpink and Havaianas.
The event was housed in Z Supply's 1,500-square-foot showroom and drew buyers from Xpecting, Cali Girl, Sassy & Chic, Blue Moon, Jack's Surfboards, Girl Talk, Sunny Days, No Rest for Bridget, Tilly's, Urban Attic, Bloom and Salon Zinnia.
"There was a need for a small show to bring local retailers and buyers within the Orange County area together," said Greg Garrett, Z Supply cofounder.
Garrett said his company's sales representatives had been requesting a local trade show and found interest from other companies.
"We had such a great response out of the gate," Garrett said. "We had more reps that wanted to do the show, but unfortunately we only have a limited space in our corporate showroom," he said.
OC Mix provided an opportunity to connect with buyers who may have missed earlier trade shows—as well as a chance to help retailers looking for quick-turn goods to restock depleted inventories.
"We have retail partners from San Diego and Orange County and even some in LA that sometimes don't make it to the LA markets," Garrett said. "We wanted to create an easy working environment for the stores and the reps. They can shop from a variety of brands and have no hassle finding parking. [We] offer them breakfast, lunch, and even a wine-and-cheese cocktail hour. We are also making sure that this show doesn't conflict with any of the other shows and that it also makes sense in offering deliveries to the stores that need to restock on some products."
Megan Mack, with Jack's Surfboards in Huntington Beach, Calif., was invited to attend OC Mix by Kendra Coleman, Z Supply's West Coast sales representative. Mack was looking for swimwear, casual dresses and graphic tank tops. "I am here to look at Z Supply and other brands we carry and new ones as well," she said. "I also haven't been to the Z showroom, so it was a cool motivation to check that out too."
Mack said she typically attends larger trade shows such as Agenda.
"But those bigger shows only happen every so often, so it's good to see what's new and refresh," she said.
The buyers at OC Mix were split between those looking for Spring/Summer/Immediate deliveries and those placing Fall orders. Sales reps said they were landing orders from existing accounts and new stores.
Debby Martin, national sales and marketing for L*Space, said she decided to do the show because of the convenient setting.
"It is basically in our own backyard," she said. "With L*Space being a brand made in Southern California, this platform is really easy. We are [able] to see all the buyers and align ourselves with some great brands."
L*Space, which sells to a variety of retailers—including Diane's, Principessa, Hiptique, Nordstrom and Shopbop—was exhibiting "at-once goods" for Spring/Summer 2016 and premiering new silhouettes for the Summer collection with a lighter color palette.
"That is what is great about [this show]—we get to sit down, work on orders one on one, especially with new accounts. And with the buy-now, sell-now situation with retail, it's really nice to be able to offer at-once goods," Martin said.
Splendid West Coast Account Executive Diana Phornsutiphaijit said she was able to capture more of an Orange County audience at OC Mix.
"Because we already have seen a lot of our [existing] accounts for Fall and closed our orders, we are looking for new accounts from Los Angeles and San Diego," she said. "[So many] of the sales reps are struggling with a lot more road work, which means time away from the office. With this show, we are able to take the time needed to make new relationships or revisit existing ones."
Although most exhibitors previously showed their lines at Los Angeles Fashion Market and CALA, many said the idea of having a local show was appealing to both sales representatives and buyers.
Jocelyn Rodgers, women's West Coast sales representative for Wild Fox, said she appreciated the chance to exhibit alongside other good brands. The timing was perfect for Wild Fox's July deliveries as well, she said.
Shanon Martin, with The Village Showroom, was presenting Fall 2016 collections for Chaser and Summer deliveries for Mila. OC Mix was a good fit because the two brands have a big Orange County base. "We sell a lot here, so we reached out to [our] stores. They were really into the idea of [attending] a local show," she said.
Other exhibitors, such as Jenny Wessel, West Coast women's sales manager for Herschel Supply Co., utilized OC Mix to showcase special Holiday 2016 pieces that would suit the women's market.
"We wanted to get in front of Orange County contemporary stores that might not know that Herschel does things specifically for women, and we want to be everywhere we can to suit that market," she said.
OC Mix will return for a July 18–19 run in Irvine. For information, contact Beatrice Rosu at (949) 236-7011.