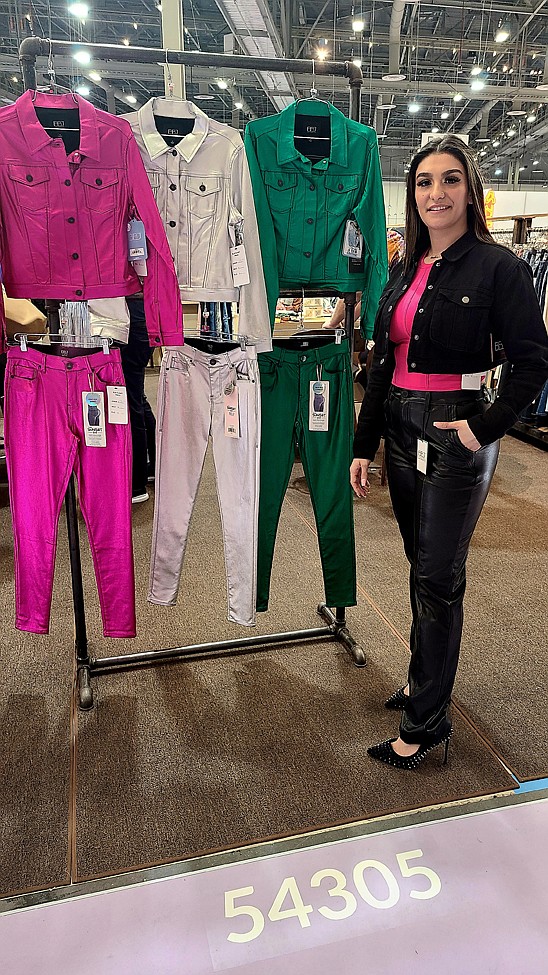 TRADE SHOWS
MAGIC Brings Back the Magic
There was a powerhouse lineup Aug. 7–9 at the Las Vegas Convention Center for MAGIC Las Vegas. The three-day showcase kicked off with a keynote by Martha Stewart and a range of celebrity speakers. Trends included the cultural phenomenon Barbiecore, extreme shine, denim on denim, digital lavender and a new wave of quiet luxury.
"Modern sportswear has seen huge growth and has moved front and forward in the show," said Jordan Rudow, VP of MAGIC. "Additionally, the areas of home, beauty and wellness have become increasingly important."
Buyer Stephanie Wise, creator of Sip and Shop Wisely of Orlando, Fla., was shopping for her Facebook-live audience. "This business is the perfect way to communicate real time with my customers," said Wise. "Live shopping is where it's at!"
Line and Dot, new to MAGIC, was all about passionate pinks. Hot-pink mini dresses and satin slip dresses were priced at $65–$68. Immediate delivery for Holiday included a fuschia velvet dress priced at $81.
Los Angeles brand VOY designs for women with a strong sense of style. Ruffles were a major story here, where the ruffled sleeve has become its signature. Blouses were priced at $18–$30.
Trio Urban was started in Venice Beach, Calif., by designer and founder Idan Azoulay. Embellished and shredded jean jackets started at $35.
At Boom Boom Jeans, also from L.A., everything with shine was booking. The vegan metallic-leather flares were priced at $12 and matching jackets at $13.50.
Q2, started in Spain and now headquartered in Los Angeles, had a strong showing with this season's digital lavender priced at $15–$30. Wholesale manager Pedro Marco,said, "We do not do basics. We are all about special things."
Azalea Wang was launched in 2019 in Chicago. "We are bold; we are disruptors," said creator Erica Wang, whose celebrity following includes Carrie Underwood to Taylor Swift. Jackets were priced at $50–$150 and shoes at $50–$90.