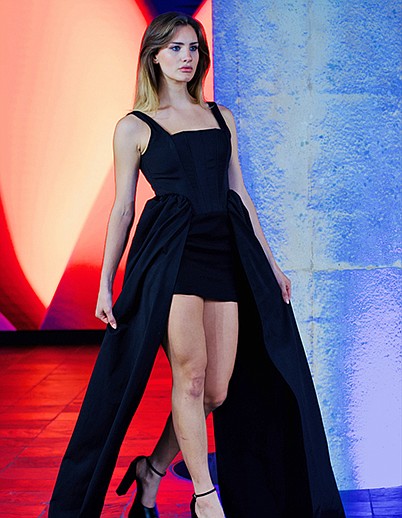 FCI STUDENT DESIGNS
FCI Unveils Student Designs With DTLA Runway Show
On June 15, FCI Fashion School hosted a showcase of student designs at The New Mart in downtown Los Angeles. Nine students showed ready-to-wear collections that represented a variety of fashion categories.
Celebrity hairstylist Veronica Fletcher transitioned into a fashion career and showed a strapless, floor-length denim mermaid gown with a sweetheart neckline finished with a train of stripes and gold sequins.
Reed Gregory elevated streetwear with pieces such as a white minidress with ribbons laced through grommets along the sides and a plunging neckline.
The Barbie in Living Colour collection by Viviana Ye Cao featured a formal crop bra top with matching ball gown in midnight blue and oversized floral print in tangerine, Barbie pink and sky blue.
Culley Thomas took inspiration for his loungewear from the sashiko practice of Japanese embroidery, which appeared on a plum-hued hoodie with neon thread and dye effects.
Lorena Brewer showed updated classics influenced by Seville, Spain, including a set of pastel-pink satin shorts, crop top and sleeveless vest with rhinestone epaulettes.
The Rebel Tides collection by Vee Pike blended the allure of mermaids and the edginess of punk in a fine-mesh dress with an overlay of a teal sequin bandeau and zigzag-hem miniskirt.
FCI alum Sophia Elly's Trash Clash collection applied faux fur, sequins and a lot of shine to create a furry, sparkly cerulean coat with iridescent lining over a black bodysuit with a floral appliqué.
Alina Petrusana's elegant, sleeveless floor-length dress was shown in baby blue with contrasting piping and flower detail below a plunging neckline and hip-high side slits that revealed matching shorts.
The show also featured Alfredo Sanchez Benitez's second collection, for which he created a cocktail dress in sapphire that had a sequin top and a skirt with enormous ruffles.