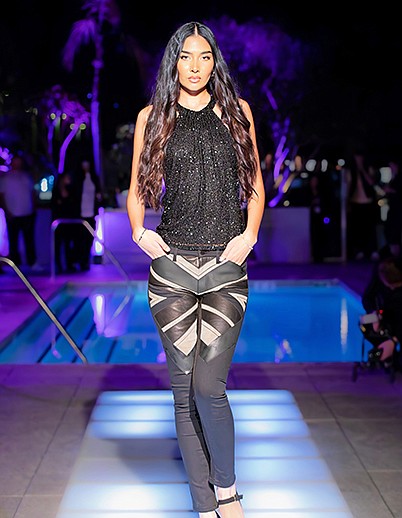 WE'RE BAAACCCKK
L.A. Fashion Weekend Aligns With L.A.'s October Market Week
Endless Road Entertainment hosted a soft relaunch of its L.A. Fashion Weekend Oct. 11 at the 12,000-square-foot I|O Rooftop space at The Godfrey Hotel in Hollywood, Calif. The event blended a Spring/Summer 2024 fashion runway with opportunities to shop brands in a party atmosphere to promote networking and a beauty bar to give attendees a glamorous experience.
California-based brands included Lovlei, Malibu Road, Peelers and Ragdoll. Trends included short dresses paired with shorts shown in bright-pink-and-citrus-hued floral prints. Streetwear inspiration featured prominently on the runway in button-down shirting with tailored shorts in gunmetal gray contrasted with a red crop top, in addition to a take on the puffer vest in black worn over a bright-yellow T-shirt and black denim, topped by a classic baseball cap. Athleticwear also appeared on the runway, promoting style coupled with ease of movement.
The recent L.A. Market Week in downtown Los Angeles, held Oct. 9–12, which drew buyers to the California Market Center, Cooper Design Space and The New Mart, allowed the L.A. Fashion Weekend team to attract buyers to an event that featured the style of a runway production while generating opportunities for apparel professionals to plan business for the upcoming seasons.
Scheduling L.A. Fashion Weekend amid the Spring/Summer 2024 market was intentional, according to the production's founder, Endless Road Entertainment CEO Mikey Koffman, who explained her team's strategy.
"L.A. Fashion Weekend is about the business of fashion, utilizing the runway as a buying tool for retailers during L.A. Market Week," said Koffman "We focus on consumer-driven brands that lend themselves to the California lifestyle."
L.A. Fashion Weekend will return March 15–17 to showcase Fall/Winter 2024 and Oct. 11–13 for a glimpse at Spring/Summer 2025.