MANUFACTURING
By Alison A. Nieder | April 14, 2016
To kick off the opening of the new Candiani Design Center in Los Angeles, denim trade show Kingpins hosted an event for the city's denim industry that focused on the challenges—and benefits—of sustainable denim production.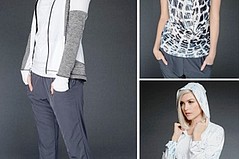 Los Angeles–based contemporary label XCVI introduced a new athleisure collection, called XCVI Movement, at the beginning of the year.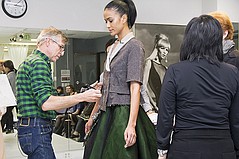 Last year, the board of the Metropolitan Transportation Authority—which runs the mass transportation systems in Los Angeles County with 2,300 buses and more than 80 rail stations—launched an action plan to go beyond traditional marketing schemes to attract new riders—particularly those young urban dwellers who might be more inclined to ditch their cars.
In 2010, JBlu Inc., a longtime Los Angeles clothing company, imported some 500,000 pairs of blue jeans from China in 11 shipments through the Port of Long Beach—all headed for retail stores around the country.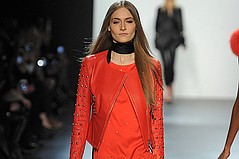 For 10 years, Thomas Wylde built a reputation as a high-end collection that balanced its luxe pieces—and equally high price points—with a rock 'n' roll edge.
Marik Zeltzer, who cofounded the XCVI brand with his wife, Gita, died on Feb. 23 after suffering a heart attack. He was 70 years old.
After more than six months of searching for a new president, John Walbrecht has been appointed to take over the top job at Mountain Hardwear.
A Los Angeles manufacturer that supplies garments for Ross Stores has been ordered to pay $212,000 in back wages for employees of 13 of its subcontractors after the labor department found YN had violated requirements for minimum wage and overtime, according to a labor department release.
At the September run of Designers and Agents in New York, a new concept will bow showcasing designs that are made in New York.
The Wolves + Wildflowers young contemporary brand, which will roll out later this year, was inspired by the girl who likes bad boys, said Tina Rani, a cofounder of the Huntington Beach, Calif.–based label.
The latest LAEDC economic forecast calls for continued growth in California and the rest of the country.
February 11, 2016
|
By John McCurry, Contributing Writer
Cloquet is a small town in northeast Minnesota, about 20 miles west of Duluth. It is not a typical textile manufacturing center, and it's home to a not-typical company called Wear-A-Knit.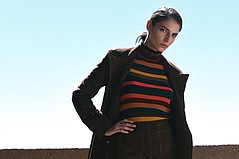 Staud clothing is a customizable luxury line that takes women virtually to the design table.
After a decade of designing for some of the biggest surfwear designers, including Billabong and Rip Curl, Christa Bischofberger and Kristy Kalsman started their own brand, Saltwater Luxe, which is headquartered in Long Beach, Calif.
After four months in bankruptcy, Los Angeles clothing maker American Apparel announced on Feb. 5 that it had exited Chapter 11 bankruptcy after a reorganization plan was approved days earlier by the U.S. bankruptcy court.
To celebrate the opening of its new showroom in downtown Los Angeles, Turkish denim mill Bossa hosted a grand opening party and denim trend presentation on Jan. 15.