RETAIL
Aussie Brand Gorman Opens in West Hollywood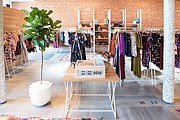 After 18 years selling contemporary women's fashion in Australia and New Zealand, the Gorman brand opened its first U.S. store in West Hollywood, Calif., recently.
Located at 8483 Melrose Ave., the new Gorman shop is located near the stylish corner of Melrose and La Cienega Boulevard in the neighborhood of Melrose Place, which is the address of high-end boutiques Marc Jacobs, The Row, Marni, Isabel Marant and Monique Lhuillier.
Melbourne resident Lisa Gorman cultivated a reputation for making colorful, art-inspired clothes that are environmentally friendly. The company's website (www.gormanshop.com.au) offers styles such as colorful leggings, leather miniskirts and skirts leopard-print jackets, cardigans, pantsuits, and footwear. Price points are $30 to $700.
The brand also has produced collections with artists such as Dana Kinter of Adelaide, Australia. "Print and color have always been at the forefront of the brand, teamed with a unique assortment of collaborations with local and international artists," Lisa Gorman said in a statement.
The 3,480-square-foot shop features some of the tile work of the previous tenants. The space also features brick walls, an exposed wood ceiling and natural light coming from the roof's skylights.
One reason why Gorman opened its first U.S. store in Southern California is because the region has similar weather and culture to Australia, she said. "In terms of collections, there won't be a huge contrast compared with what we have available in Australia. We may have opposite seasons, but it's important to us that we remain authentic in our worldwide approach and collection availability with the brand, regardless of the hemisphere and location," Gorman said.