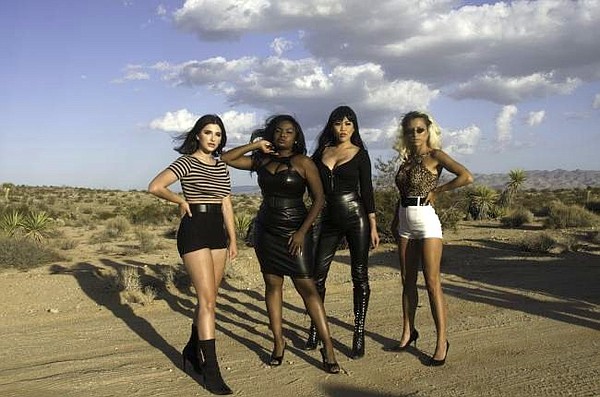 Pinup Girl Clothing's Tease for Deadly Dames
Los Angeles' Pinup Girl Clothing brand makes a point of designing clothes for fearless women.
Now, the brand made a movie about it.
On Nov. 29, the 90-second film "The Deadly Dames" was screened at dive bar Gold Diggers in Los Angeles's East Hollywood section. The short was an homage to cult film "Faster, Pussycat! Kill! Kill!" The 1965 film covers the misadventures of go-go dancers searching for a hidden fortune in the desert. Does it sound reprehensible? Not if you were Roger Ebert. It was a favorite of the beloved film critic. Check out his appraisal of the trash cinema gem here.
In "Deadly Dames," actresses Aaliyah Ei, Sophia Ventrone, Aziza Kyebasuuta, and Jade Morales wear new Pinup Girl Clothing inspired by the film. And yes, the film was a preview of the label's upcoming Deadly Dames line. It's a revival of a Deadly Dames line, which it ran a decade ago. The new version of Deadly Dames is scheduled to be released later this month or in the new year.
During a Q&A, post screening, label founder Laura Byrnes said that for years, she wanted to produce a film that was a homage to "Faster, Pussycat! Kill! Kill!" This year, she met director Dallas Jay Hunter who confided that she also wanted to make a "Faster, Pussycat! Kill! Kill!" Project. The film is scheduled to be posted across Pinup Girl Clothing's social media later this week.