FORECASTS & ANALYSIS
By Deborah Belgum | June 5, 2019
As the economists putting out the UCLA Anderson Forecast were writing their quarterly report released on June 5, the Trump administration had not yet announced its 5 percent tariff on all Mexican goods being imported into the country.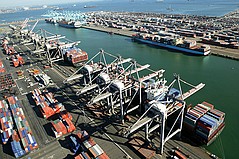 Despite rumblings of a trade war, the U.S. economy is marching forward at a nice pace as the U.S. unemployment rate hits a low not seen for almost 50 years.
Trade and tariffs could be the make or break factors when it comes to growth of the U.S. economy.
Over the past five years, the creative economy in California has seen a growth spurt as more jobs have been added in the sector's core areas of entertainment, fashion and publishing.
Creative jobs in California and Los Angeles County continue to grow as the economy holds strong.
Lately, the apparel and retail world has been centered around three Ts: taxes, tariffs and trade.
Last year, President Trump had just taken office and the economy was slowly slogging forward as unemployment rates dropped steadily, inflation was modest and interest rates were changing every so slightly.
Business investment is going to be driving the bus this year.
The California economy has been going gangbusters over the past few years and should continue to march along nicely over the next two years.
California, with its technology, aerospace and entertainment industries, will continue to outdo the rest of the United States.
The retail boneyard is piled high with store doors that closed last year, and many more may be on the way.
With tax cuts in place and unemployment at a record low, 2018 is shaping up to be a banner year for the economy.
The stock market is at an all-time high. Unemployment rates have hit rock bottom, and Southern California housing prices have surpassed their all-time high in 2009.
UCLA economists are optimistic about the U.S. economy in 2018 and then see it cooling in 2019.
True Religion, the Los Angeles company whose jeans were constantly being knocked off by Chinese counterfeiters when the label was a must-have brand, exited Chapter 11 bankruptcy with a smaller retail footprint and cash to move forward.
CIT named Nicholas Nunnari vice president and business development officer for the company's commercial services team in Los Angeles under the direction of CIT Western Regional Manager Darrin Beer.