FINANCE
By Deborah Belgum | March 8, 2018
Last year, President Trump had just taken office and the economy was slowly slogging forward as unemployment rates dropped steadily, inflation was modest and interest rates were changing every so slightly.
Only four months after filing for Chapter 11 bankruptcy protection, Bachrach men's stores is expected to emerge from bankruptcy by the end of August with 15 stores intact.
For nearly a decade, interest rates have remained near zero, meaning it was very inexpensive for businesses to borrow money. But those sunny days may be over. Twice this year, the Federal Reserve has raised the prime rate, and it is expected to do so again later this year.
Retail sales are inching forward this year with a strong nudge by online purchases fueled by millennials who prefer shopping on their smartphones and computers.
The UCLA Anderson Forecast says Trump's prediction of 3 percent GDP growth probably won't happen.
In 2015, some 747,600 people in California were directly employed in creative-industry jobs, a 13.5 percent increase from 2010, according to the "2017 Otis Report on the Creative Economy of California," released on May 18 by the Otis College of Art and Design.
Five months ago, White Oak Global Advisors acquired Capital Business Credit, known for its asset-based lending portfolio. Now White Oak Global is renaming Capital Business Credit to White Oak Commercial Finance.
Even though the U.S. economy is predicted to be on sound footing this year, the stack of retailers closing their stores due to bankruptcies or slipping sales keeps piling up at an alarming rate.
It's a group that includes factors, bankers, lawyers, certified public accountants, insurance agents and other members of the professional services community that specialize in working with apparel businesses.
As retailers start shrinking their footprints around the country, apparel manufacturers are wondering how to cope with this constricting retail landscape.
A new Trump administration should be good for the U.S. economy over the next couple of years, but there might be some bumps in the road for California, according to a UCLA report released March 8.
In its latest forecast for 2017-2018 released on Feb. 22, the Los Angeles County Economic Development Corp. predicted that the nation's gross domestic product—the country's measurement of economic growth—will inch up by 2.2 percent this year and increase to 2.7 percent in 2018.
The California Apparel News recently spoke with several finance-industry executives about what challenges and bumps in the road apparel manufacturers and retailers are facing this year now that the uncertainty of the presidential election is over, but another set of uncertainties have cropped up under a new administration.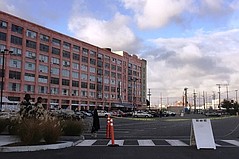 As American Apparel is shuttering its downtown Los Angeles clothing factory and laying off thousands of workers, hedge-fund investor Standard General is suing the various lenders that bailed the garment company out of bankruptcy for the first time last year.
The economy is expected to head down a positive path this year, but department stores and specialty-store chains will be hitting strong headwinds as more people shop online.
Capital Business Credit, the New York–based finance company with strong ties to the apparel industry, has been acquired for an undisclosed price by White Oak, a San Francisco firm that loans money to small- and medium-sized businesses.