FORECASTS & ANALYSIS
By Deborah Belgum | September 26, 2018
Could the U.S. economy be partying like there's no tomorrow only to be faced with a hangover in two years?
Even though the U.S. economy is predicted to be on sound footing this year, the stack of retailers closing their stores due to bankruptcies or slipping sales keeps piling up at an alarming rate.
It's a group that includes factors, bankers, lawyers, certified public accountants, insurance agents and other members of the professional services community that specialize in working with apparel businesses.
As retailers start shrinking their footprints around the country, apparel manufacturers are wondering how to cope with this constricting retail landscape.
A new Trump administration should be good for the U.S. economy over the next couple of years, but there might be some bumps in the road for California, according to a UCLA report released March 8.
In its latest forecast for 2017-2018 released on Feb. 22, the Los Angeles County Economic Development Corp. predicted that the nation's gross domestic product—the country's measurement of economic growth—will inch up by 2.2 percent this year and increase to 2.7 percent in 2018.
The California Apparel News recently spoke with several finance-industry executives about what challenges and bumps in the road apparel manufacturers and retailers are facing this year now that the uncertainty of the presidential election is over, but another set of uncertainties have cropped up under a new administration.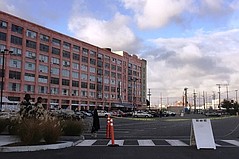 As American Apparel is shuttering its downtown Los Angeles clothing factory and laying off thousands of workers, hedge-fund investor Standard General is suing the various lenders that bailed the garment company out of bankruptcy for the first time last year.
The economy is expected to head down a positive path this year, but department stores and specialty-store chains will be hitting strong headwinds as more people shop online.
Capital Business Credit, the New York–based finance company with strong ties to the apparel industry, has been acquired for an undisclosed price by White Oak, a San Francisco firm that loans money to small- and medium-sized businesses.
In its economic forecast released on Dec. 15, the A. Gary Anderson Center for Economic Research at Chapman University in Orange, Calif., predicted a strong U.S. economy spurred by personal and corporate tax cuts, more spending on infrastructure and defense, and an easing of bank regulations.
The U.S. economy continued its glacial rebound in 2016 as key apparel industry indicators showed signs of improvement. But a deeper dive into the numbers makes it clear that some sectors fared better than others.
UCLA Anderson economists got caught by surprise when Donald Trump was elected to be the 45th president of the United States.
The first forecasts for the upcoming 2016 holiday season have been released, and they predict that retailers will enjoy solid sales during the crucial season which can comprise more than 20 percent of a retailer's annual business, according to the National Retail Federation, a Washington D.C. retail trade organization.
Shoppers are flocking to online sites to snap up purchases while spending more money on dining out and traveling. This has left tried-and-true retailers and manufacturers in a quandary.
According to the recently released UCLA Anderson Forecast's quarterly update, the next two years will be pretty much a repeat of the past several years—moderate growth with job gains. But future job gains won't be quite as robust as in previous years.