MANUFACTURING
By Deborah Belgum | April 12, 2018
Levi Strauss & Co., that venerable denim brand founded in San Francisco in 1853, has been on a revenue roll recently as it diversifies its products and targets the international market for growth.
Express Trade Capital Inc. named Ignatius "Nat" Marotta as first senior vice president for the New York–based finance company, which specializes in trade finance, factoring and purchase-order financing.
At a recent event in Los Angeles, Stage Stores executive Kenneth J. Lettre offered some words of advice for avoiding chargebacks.
As consumers alter their buying patterns, developers across the country are blowing up shopping centers and redrawing their mall maps to give more real estate to restaurants, nail salons and gadget stores and less square footage to clothing outposts.
By 2022, California will be the state with the highest minimum wage in the country, making it an expensive place to do business.
UCLA Anderson Forecast predicts that the U.S. economy will grow moderately in 2016 and 2017.
Republic Business Credit announced it has hired Fred Gaylord as senior vice president of sales and marketing.
In the whirlwind of election-year debates, some politicians have been taking a protectionist attitude and threatening to raise U.S. tariffs and erect trade barriers.
The man who oversaw a scheme to embezzle $8 million from a commercial laundry house owned by Citizens of Humanity pleaded guilty to federal charges, according to the U.S. Attorney's office.
The latest LAEDC economic forecast calls for continued growth in California and the rest of the country.
The global economy started out this year with a whimper, not a bang.
New York–based Express Trade Capital Inc. now has a West Coast office, which is headed by Dina Davletshina.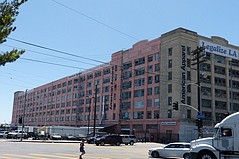 Just days after American Apparel was cleared to exit bankruptcy, the troubled Los Angeles clothing maker filed its third-quarter earnings results showing the company is bleeding money.
Dov Charney Responds to the Bankruptcy Court Decision
Boston Proper, the multichannel retailer owned by Chico's FAS Inc., has been acquired by Los Angeles–based private-equity investment Brentwood Associates for an undisclosed amount.
The results are in. Holiday sales are up 3 percent over last year.