FINANCE
By Deborah Belgum | April 17, 2014
After a harsh winter put a chill on the national economy, warmer weather is putting a spring back into consumer activity, which should translate into higher retail sales and apparel purchases for the rest of the year.
Strategies for finding an investor or selling a company were on the agenda at a July 9 panel discussion organized by the California Fashion Association and hosted by Kingpins, during the denim trade show's July 9-10 run at the Cooper Design Space in downtown LA.
Joe's Jeans Inc. signed a deal to acquire Hudson Clothing Holdings Inc. for $97.6 million.
BBCN Bank, Goodman Factors, Hana Financial, Inc., Milberg Factors, Inc., Rosenthal & Rosenthal, Wells Fargo Capital Finance
June sales beat forecasts reporting that U.S. chain-store sales increased 3.9 percent in June
Last year, uncertainty was in the air with an upcoming presidential election
The secret to selling an apparel label is to have a niche business that no one has developed.
CIT Commercial Services, Continental Business Credit, First Capital Western Region, LLC, Goodman Factors, Hana Financial, Inc, etc
Wholesale showroom space, the Gerry Building, is for sale.
Retailers are betting on Los Angeles again, and real estate prices are climbing.

After a roller coaster year--and various suitors, ailing Australian surf giant Billabong International is off the block.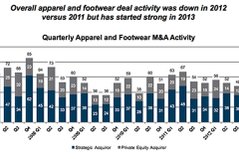 The Apparel and Retail Industry Overview has been brought to you by Intrepid Investment Bankers LLC.
Apparel retailers are forecasting good business for the rest of the year.
Prime Business Credit, which has offices in Los Angeles and New York, announced it acquired Asiana Capital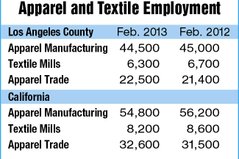 With earnings season upon us, several retail and apparel companies are reporting year-end and quarterly results that tell a happy story.
For many U.S. apparel manufacturers, China is no longer the sourcing paradise it used to be.