FINANCE
By Deborah Belgum | September 28, 2016
According to the recently released UCLA Anderson Forecast's quarterly update, the next two years will be pretty much a repeat of the past several years—moderate growth with job gains. But future job gains won't be quite as robust as in previous years.
California is on a steady course to see job growth outpace the U.S. economy through the end of 2016, eventually driving down the state unemployment to 5.6 percent during that period. That is considerably lower than the 7.3 percent recorded in October.
California has been slowly adding jobs to its payrolls, and next year should be no different.
More people should be employed in California during the fourth quarter of this year as companies around the state continue to add staff.
Financing alternatives from traditional methods such as factoring to crowdfunding opportunities were discussed at a recent panel discussion featuring factors, investment bankers and other finance experts.
With more apparel companies looking to export overseas to boost revenues, how difficult is it to get factor financing on these overseas accounts, and what things should apparel labels be aware of when exporting?
The latest UCLA Anderson Forecast, released on Sept. 11, shows California's economy making slow progress with the operative word here being "slow."
With interest rates still hovering in single-digit territory, the cost of borrowing money should be cheap, cheap, cheap. But it's more than low interest rates that determine how much apparel manufacturers pay for a loan.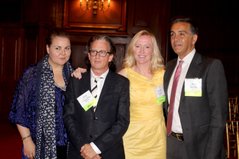 July 24, 2014
|
By By Alyson Bender
Social media has given consumers a front-row seat and an inside look into their favorite brands, but it has also changed the traditional dynamic between brand and audience.
Topson Downs, a Los Angeles manufacturer established in 1971, announced on July 18 it had acquired a majority interest in the Rachel Roy brand from The Jones Group.
For once, economists are in agreement. The financial outlook for California and the rest of the nation is bright for the rest of the year.
Rosenthal & Rosenthal of California announced it has hired Maria Contino as its new senior vice president and business development officer.
Start looking for that new store location now before rents go up even more, because the retail market is heating up.
Oirtland, Oregon-based Columbia Sportswear completed its purchase of Carlsbad, California-based Prana on May 30.
Surf giant Quiksilver Inc. reported declines of 9 percent in net revenue for its second quarter for its fiscal 2014 year, which it released on June 2.
After a harsh winter put a chill on the national economy, warmer weather is putting a spring back into consumer activity, which should translate into higher retail sales and apparel purchases for the rest of the year.