FINANCE
By Deborah Belgum | April 14, 2016
As consumers alter their buying patterns, developers across the country are blowing up shopping centers and redrawing their mall maps to give more real estate to restaurants, nail salons and gadget stores and less square footage to clothing outposts.
Oirtland, Oregon-based Columbia Sportswear completed its purchase of Carlsbad, California-based Prana on May 30.
Surf giant Quiksilver Inc. reported declines of 9 percent in net revenue for its second quarter for its fiscal 2014 year, which it released on June 2.
After a harsh winter put a chill on the national economy, warmer weather is putting a spring back into consumer activity, which should translate into higher retail sales and apparel purchases for the rest of the year.
These are tough times for traditional retailers. Many big store chains and specialty stores are finding their business is being swept away by websites that make it easier for people to shop any time of the day or night without even moving from the couch.
This year could be a very good year for apparel companies that have a "For Sale" sign hanging outside their front door.
David Meister had operated under the Kellwood umbrella for 15 years under a licensing agreement that will not be renewed.
Many know Joyce Eisenberg-Keefer as the force behind The New Mart building, recently made a donation of $15 million to the Los Angeles Jewish Home.
Los Angeles–area menswear maker James Campbell Brands has been acquired by New York–based Hampshire Group Ltd. from Maverick J LLC, a Rick Solomon Co.
According to press reports, American Apparel has hired lawyers Skadden, Arps, Slate, Meagher & Flom LLP to provide restructuring advice on $206 million it owes bondholders.
Bleu/Rod Beattie has been sold by New York swimwear manufacturer A.H. Schreiber Co. to Amerex Group.
California's economy next year should be on a positive path, growing slightly more than the U.S. economy as the housing market and other industries forge ahead and grow, according to a recent economic forecast released by the Los Angeles County Economic Development Corp.
Bebe Stores Inc. is just a year into its turnaround campaign, but media reports indicate that the publicly traded contemporary retailer is investigating a sale and going private.
Financial experts weigh in on how apparel manufacturers will fare in 2014 and what challenges to expect in the months ahead.
Extreme weather made the traditionally low sales month of January even tougher for retailers. However, businesses rallied, said the International Council of Shopping Centers, and sales increased 3.5 percent, according to its tally of comparable-store sales.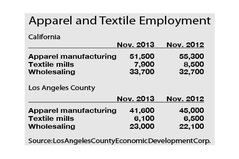 Apparel manufacturers and clothing stores are taking stock of 2013 and shaking their heads.