FINANCE
By Alison A. Nieder | October 19, 2017
CIT named Nicholas Nunnari vice president and business development officer for the company's commercial services team in Los Angeles under the direction of CIT Western Regional Manager Darrin Beer.
The long-awaited moment may be here. The U.S. government is expected to boost federal interest rates this month.
Classic styles with a touch of fashion have been the mainstay of J.McLaughlin, a small specialty-store chain founded in New York by two brothers in 1977.
Oaktree Capital Management, the Los Angeles–based investment firm, is ramping up its effort to buy Quiksilver Inc. out of bankruptcy.
Nearly 200 apparel-industry executives turned out to discuss brand-building strategies that ranged from social-media practices and licensing opportunities to gauging when to seek outside investment.
Ron Garber, who most recently was the executive vice president and regional manager of First Capital Co., has been named an exclusive consultant with the Los Angeles office of Merchant Factors Corp.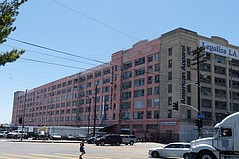 Financial woes throw American Apparel into bankruptcy court.
We recently caught up with several finance-industry executives to talk about merger-and-acquisition opportunities and the challenges of balancing a business in the current economic environment.
The economy is gearing up for a major shift as the huge baby boomer generation enters retirement and the even larger millennial generation begins taking a greater position in the workforce.
Rosenthal & Rosenthal Inc., a privately held domestic factoring and financing firm, has hired Martin Eckstein as vice president of business development.
California's economic outlook for the remainder of the year is good, but it's not exactly time to pop the champagne cork because the forecast is served with a helping of caution.
With the economy still ticking along, the unemployment rate in California and the rest of the country will continue to drop through 2016, according to the latest UCLA Anderson Forecast.
Quiksilver Inc. reported results for its second fiscal quarter of 2015 and rescinded its previously stated financial guidance for the fiscal year, the surf giant noted that it would not provide an outlook for the rest of fiscal year, according to a company statement, which was released on June 9.
American Apparel reported that in the first quarter of this year it had a net loss of $26.4 million, or 15 cents a share, compared to $5.5 million, or 5 cents a share, last year.
Fast A/R Funding, a 6-year-old specialty finance company based in Calabasas, Calif., has acquired Continental Business Credit for an undisclosed amount.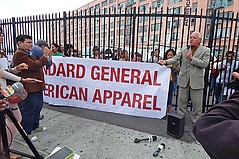 David Nisenbaum, the fired director of manufacturing accounting analysis and audit at American Apparel, filed a lawsuit in Los Angeles County Superior Court on April 20 against his former employer. He maintains he was wrongfully fired because questioned the financial actions of John Luttrell, the chief financial officer of the company at the time Dov Charney was still the president and chief executive.