IMPORT & EXPORT
By Deborah Belgum | March 22, 2018
With about 33 percent of all clothing and 72 percent of all footwear sold in the United States coming from China, President Trump's latest volley to impose some $50 billion in tariffs on that Asian country could have a dire effect on the average consumer.
With retail sales predicted to inch up around 4 percent this year, cargo container traffic should also see healthy growth this year.
Julie Hughes, president of the U.S. Fashion Industry Association, and Augustine Tantillo, president and chief executive officer of the National Council of Textile Organizations, discussed their group members' view on everything from a proposed border tax on goods coming from Mexico to the fate of the Trans-Pacific Partnership at a recent live webcast.
A trade war over Europe limiting U.S. beef imports led the Obama administration last year to propose a set of retaliatory tariffs on mostly food-related goods coming from Europe.
President-elect Donald Trump has nominated Robert Lighthizer to become the new U.S. trade representative in charge of the country's trade policy.
For years, Hanjin Shipping Co. was a major customer at the Port of Long Beach, accounting for 12 percent of the cargo containers that came through the Southern California terminus last year.
Fewer clothes were imported from China this year than last year as manufacturers headed to lower-wage countries such as Vietnam, India and Bangladesh to do more of their production.
The Trans-Pacific Partnership, a free-trade accord between the United States and 11 other Pacific Rim countries, was poised to be approved this year by the U.S. Congress. But election-year politics put an official end to that as both presidential candidates Hillary Clinton and Donald Trump made it known they would not back the trade pact.
Los Angeles clothing importers were hit hard this year when Hanjin Shipping Co. filed for bankruptcy in South Korea on Aug. 31. The bankruptcy left several Hanjin vessels drifting at sea while the shipping line came up with funds to dock at global ports and terminals.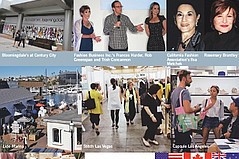 From high-profile bankruptcies in manufacturing, shipping and e-commerce to million-dollar development projects across the Southland, 2016 was a year of stark contrasts for the apparel industry.
Ever since the presidential elections ended, people such as Daniel Barcenas have been fielding calls from Mexican apparel companies asking what is going to happen to free trade under a Trump administration.
With some 6,000 Hanjin-leased cargo containers sitting empty in the wake of the Hanjin Shipping bankruptcy, the result is that some 6,000 chassis attached to the containers are not circulating throughout the ports of Long Beach and Los Angeles and stalling pickup times and deliveries.
As the holiday season approaches, shipping import volumes at the nation's leading ports are ramping up rapidly.
November 3, 2016
|
By Stephen Dedola
The days of calling your ocean freight forwarder every time you need information about your cargo should be long gone. A good global freight-tracking system can save you hours on the phone and help boost your business's productivity.
After a disastrous holiday season two years ago when many ships couldn't unload their cargo on time at West Coast ports, longshore workers and their employers are trying to head off any similar disaster.
With high-priced blue jeans made in Los Angeles taking a beating in the market, manufacturers facing rising wages in California are amping up their production of premium jeans in Mexico.