IMPORT & EXPORT
By Deborah Belgum | November 30, 2017
With little progress in the last negotiating round for the North American Free Trade Agreement, trade experts believe it is becoming more likely that President Trump will follow through on his threat to withdraw from the talks.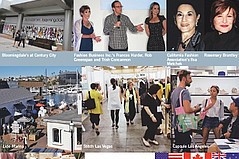 From high-profile bankruptcies in manufacturing, shipping and e-commerce to million-dollar development projects across the Southland, 2016 was a year of stark contrasts for the apparel industry.
Ever since the presidential elections ended, people such as Daniel Barcenas have been fielding calls from Mexican apparel companies asking what is going to happen to free trade under a Trump administration.
With some 6,000 Hanjin-leased cargo containers sitting empty in the wake of the Hanjin Shipping bankruptcy, the result is that some 6,000 chassis attached to the containers are not circulating throughout the ports of Long Beach and Los Angeles and stalling pickup times and deliveries.
As the holiday season approaches, shipping import volumes at the nation's leading ports are ramping up rapidly.
November 3, 2016
|
By Stephen Dedola
The days of calling your ocean freight forwarder every time you need information about your cargo should be long gone. A good global freight-tracking system can save you hours on the phone and help boost your business's productivity.
After a disastrous holiday season two years ago when many ships couldn't unload their cargo on time at West Coast ports, longshore workers and their employers are trying to head off any similar disaster.
With high-priced blue jeans made in Los Angeles taking a beating in the market, manufacturers facing rising wages in California are amping up their production of premium jeans in Mexico.
Sitting on the water somewhere between here and Asia are 17 containers of private-label menswear valued at around $1.5 million that Pacific Textiles & Sourcing in Los Angeles is importing from Pakistan.
Imports coming through the nation's ports up slightly over last year.
The Port of Long Beach is looking for a new chief executive after Jon Slangerup resigned on Sept. 8 to become chairman and chief executive of an aviation technology company in Canada.
Starting in November, three Asian shipping lines will be establishing routes from Asia to the Port of Oakland.
For years, Janet Labuda was known as the government's top dog when it came to enforcing apparel and textile import laws and finding counterfeit goods.
Cargo-container ships owned by bankrupt Hanjin Shipping have been arriving at the Long Beach/Los Angeles port complex this week after a U.S. bankruptcy judge cleared the way for vessels to dock without being seized by creditors.
With all the political rhetoric flying during an election year, apparel and textile experts are wondering whether the Trans-Pacific Partnership has any chance of being approved by Congress before a new president takes office in January.
Importers trying to extract merchandise from Hanjin Shipping Co. vessels docked at LA's two ports were being told to pay $400 to $800 extra to retrieve their containers.