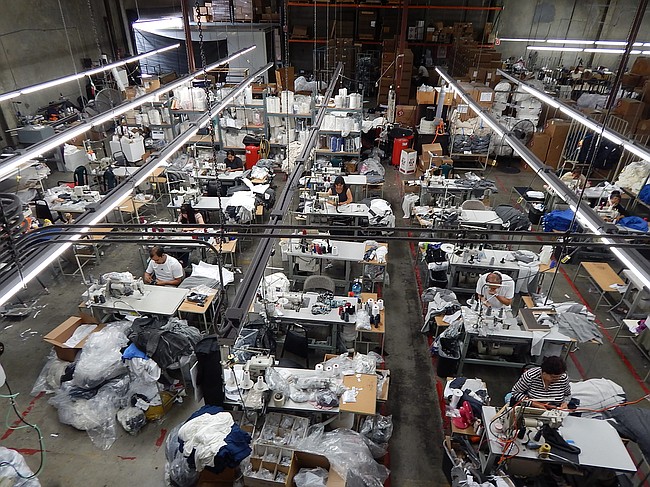 LEGAL
By Deborah Belgum | December 27, 2018
Ringing in the new year means ringing in a whole set of new laws that are important for employers to know. Most of these laws go into effect Jan. 1, but the minimum-wage increase in Los Angeles doesn't take effect until July 1.
A new year ushers in a host of new laws the state legislature passed and now take effect on Jan. 1.
The big French luxury handbag maker Louis Vuitton Malletier hasn't had much luck convincing a judge that a California tote-bag company that parodies fancy designer handbags is violating copyright law.
Cargo containers stuck on Hanjin Shipping Co. vessels anchored beyond the ports of Los Angeles and Long Beach could be unloaded soon.
In the world of copyright lawsuits, the tables have turned with Forever 21 stepping up to sue a fellow teen retailer for allegedly knocking off a fabric print that Forever 21 said it copyrighted nearly two years ago.
Walk into a Zara store in the United States and you will find that the price tags on the clothes are marked in euros, the currency for the European Union, with a sticker placed over it with the price in U.S. dollars.
A Los Angeles consumer has filed a $5 million-plus class-action lawsuit against Spanish retailer giant Zara maintaining that U.S. consumers are being charged incorrectly for Zara merchandise priced in euros.
In 2011, Fraser Ross hired Chris Lee to turn the Kitson chain of boutiques into a global brand.
August 11, 2016
|
By Nicholas A. Rozansky and Michael A. Bernet, Contributing Writers
The formidable Writ of Attachment is a popular tool among plaintiffs in California collection actions. A Writ of Attachment allows a plaintiff to turn its unsecured claim into a secured one by placing a judicial lien on the defendant's assets—even before the case goes to trial.
Masud Sarshar, known for taking an ordinary workwear brand and converting it into a colorful array of pants called Dickies Girl, has been charged by the federal government with hiding more than $21 million in income in Israeli banks and avoiding U.S. taxes on it.
Longtime apparel-industry attorney Benjamin S. Seigel has joined Greenberg & Bass LLP as senior counsel to the firm, based in Los Angeles' Encino area.
May 26, 2016
|
By Joseph G. Balice, Contributing Writer
Many players in the apparel industry face tremendous exposure from copyright-infringement lawsuits. Every day, copyright holders (plaintiffs) file dozens of lawsuits against apparel manufacturers, distributors, wholesalers and retailers, alleging that the goods they manufacture, distribute, advertise and sell infringe on a plaintiff's copyrighted design.
Peter Suk Lee started working for Los Angeles accessories maker Contempo Inc. USA in August 2014 as the controller at the company. But one year later, the owners were alleging that the 49-year-old had embezzled nearly $1.4 million from the company, according to court documents.
Over the course of its 40-year practice, Freeman Freeman Smiley LLP has represented apparel-industry clients, but until now the Los Angeles law firm didn't have a dedicated fashion law group.
The general manager of a Southern California clothing factory was found guilty on April 26 by a federal jury for offering to pay a bribe to a labor inspector to close down an investigation into back wages owed to factory workers, said the U.S. Attorney's office.
April 21, 2016
|
By John Irwin, Editorial Manager
The legal ramifications of the continuous evolution of technology and social media and how they affect the fashion industry were discussed at two panel discussions at Loyola Law School in Los Angeles on April 15.