LEGAL
By Deborah Belgum | September 27, 2018
The Delaware Supreme Court upheld an early court ruling that Dov Charney, the founder of American Apparel, must repay $19.5 million to Standard General, a New York hedge fund.
The famous trademarked red, blue or white tab found on Levi Strauss & Co.'s products has led the San Francisco denim maker to bring legal action against Yves Saint Laurent America, the American segment of the Parisian fashion house founded in the early 1960s.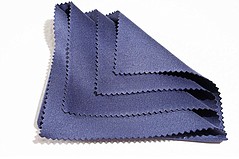 It might have led the charge for similar plastic microfiber bills in New York and Connecticut, but California's Assembly Bill 2379 is off the table—for now.
Joining West Hollywood and Berkeley, Calif., San Francisco implemented a similar ban restricting the sale of fur products following a unanimous 10–0 vote by the San Francisco Board of Supervisors. At the forefront of the ban was Supervisor Katy Tang, who represents the city's Sunset and Parkside neighborhoods.
Last month, state Assembly member Richard Bloom introduced Assembly Bill 2379 to the California State Legislature. The bill would require manufacturers of clothing that comprises more than 50 percent polyester to include a label recommending consumers bypass the washing machine and handwash these items instead.
Executives at Pacific Eurotex pleaded guilty to money laundering funds for Mexican cartels.
The clothing business can be a cutthroat industry, especially in these times of retail challenges and shifting consumer shopping habits.
Retailer Fraser Ross filed a lawsuit in July against its former executive Christopher Lee, lender Salus Capital Partners LLC, HGI Asset Management Holdings LLC and Spencer Spirit Holdings LLC.
The California Fashion Association broke down an ever-widening field of intellectual-property issues for a group of apparel manufacturers and retailers at a recent strategy session featuring several legal and insurance experts.
In a court case that took more than three weeks to argue, a 61-year-old employee who felt he was wrongfully dismissed after a shoulder injury limited his ability to work won a major verdict against his employer, Citizens of Humanity.
Masud Sarshar, known for taking a heritage workwear brand and converting it into a colorful pants collection under the Dickies Girl label, has been sentenced to two years in federal prison for hiding more than $21 million in income and $2.5 million in interest in Israeli banks and avoiding U.S. taxes.
A new year ushers in a host of new laws the state legislature passed and now take effect on Jan. 1.
The big French luxury handbag maker Louis Vuitton Malletier hasn't had much luck convincing a judge that a California tote-bag company that parodies fancy designer handbags is violating copyright law.
Cargo containers stuck on Hanjin Shipping Co. vessels anchored beyond the ports of Los Angeles and Long Beach could be unloaded soon.
In the world of copyright lawsuits, the tables have turned with Forever 21 stepping up to sue a fellow teen retailer for allegedly knocking off a fabric print that Forever 21 said it copyrighted nearly two years ago.
Previous Next