MANUFACTURING
By Andrew Asch | July 2, 2015
After nine years of working out of a renovated kung fu cinema at the edge of downtown Los Angeles' Chinatown, Flagship, a multi-channel showroom, will open a 3,000-square-foot satellite office located in the city's Fashion District, said Christopher Josol, a Flagship partner.
Band of Outsiders, a well-regarded Los Angeles label that garnered a lot of attention from New York fashion magazines and high-end stores, is going out of business, according to various reports.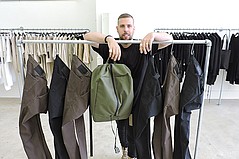 After four years of not wearing jeans, Daniel Patrick Jarvis, the founder of downtown Los Angeles–based brand Daniel Patrick, found himself wanting to put on a pair of denim earlier this year.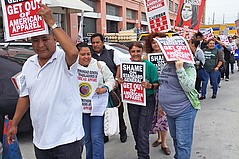 The fight between American Apparel and its founder, Dov Charney, continued with a lawsuit the manufacturer filed on May 15 in the Delaware Court Of Chancery against the ousted chief executive officer, alleging Charney violated a "standstill agreement" he had with American Apparel.
Sherman Oaks, Calif.–based Cherokee Global Brands has acquired San Diego–based casual lifestyle brand Everyday California.
Los Angeles City Council members voted in favor of a minimum wage hike from its current $9 per hour to $15 per hour by 2020.
Columbia Sportswear Co. named Ham-Bo Shim general manager of the Portland, Ore.–based outdoor apparel company's Korea subsidiary, based in Seoul.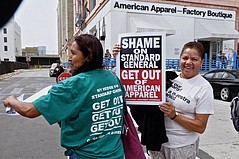 In more legal shots fired in the ongoing battle over control of American Apparel, the dismissed clothing company's founder has filed two lawsuits in less than one week accusing American Apparel and hedge fund investor Standard General of defaming his character in false accusations and letters.
American Apparel reported that in the first quarter of this year it had a net loss of $26.4 million, or 15 cents a share, compared to $5.5 million, or 5 cents a share, last year.
In another legal shot fired in the ongoing battle over control of American Apparel, the dismissed clothing company's founder filed a lawsuit alleging that hedge fund investor Standard General said it would defame his character if he didn't give up control of his American Apparel stock.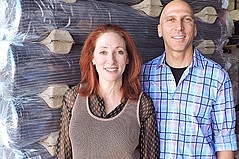 Knitting a Supply Chain that Stretches from the U.S. to the Caribbean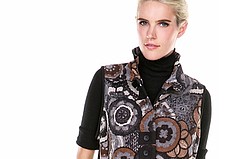 Suki Kim's industry background is in mass pro- duction, producing apparel for department stores and chains, but she always dreamed of launching her own brand.
SAE-A, the largest apparel manufacturing company in South Korea, has opened a cotton spinning mill in Costa Rica, which is the first for the Central American country.
California's State Water Resources Control Board took emergency measures to act on California's harsh drought last month, ranging from restaurants not serving water unless requested to prohibitions against using potable water to wash down driveways and sidewalks.
Eddie Bauer named José Cabaço vice president and brand creative director of the Bellevue, Wash.–based outdoor lifestyle brand.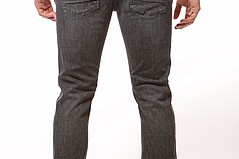 The Los Angeles area–based Foster seeks to source domestically everything from the rivets to the fabric in his capsule collection, Chip Foster Made In America, which he is aiming to ship on July 4.