MANUFACTURING
By Deborah Belgum | September 29, 2016
BCBGMaxAzriaGroup, one of the longest-running contemporary brands in Los Angeles, is laying off 123 people from its company effective Nov. 1, according to filings with the state Employment Development Department.
The name game can be a financially dangerous game played by designers every time they create a new label.
After a tumultuous two-year ride as chief executive of American Apparel, Paula Schneider will be leaving the company on Oct. 3, sources said.
High-end Los Angeles labels that have strong brand recognition are going through troubled times.
7 For All Mankind will be moving in with Ella Moss and Splendid.
September 8, 2016
|
By John McCurry, Contributing Writer
Saco River Dyehouse, a startup company formed in Biddeford, Maine, four years ago to dye yarn skeins for the home knitting industry, has moved into a new facility and has invested heavily in new equipment as it broadens into assorted technical textiles markets.
Levi Strauss & Co., the San Francisco company known for its rugged denim, has promoted two executives to new posts.
September 8, 2016
|
By Alyson Bender, Contributing Writer
Former yoga instructors Vanessa and Ian Lopatin are teaching what they preach through yogawear.
Manhattan Beachwear named Kevin F. Mahoney chief executive officer of the Cypress, Calif.–based company.
September 1, 2016
|
By John McCurry, Contributing Writer
A Brooklyn, N.Y.–based husband-and-wife team is seeking to disrupt the traditional business model for textile and apparel manufacturing with a startup company that produces neckties, socks and scarves on a custom-order basis using the latest 3-D knitting technology.
Guess, the Los Angeles company known for its sexy clothes and even sexier ads, reported a slight decline in its second-quarter revenues for fiscal 2017 as tourist traffic to stores dipped in the United States.
Sole Technology Inc., the Orange County, Calif., manufacturer of action-sports footwear and apparel for brands such as Etnies, Altamont, És, Emerica and ThirtyTwo recently named Esmail Mawjee as the interim president of the 30-year-old company.
August 11, 2016
|
By Edward A. Gribbin, Contributing Writer
With consumers not prepared to pay a premium for more-ethical goods and services, what does the industry have to do?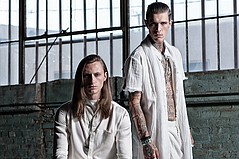 Departed is bringing a sexy sophistication to menswear—with an edge.
For years, JS Apparel was known primarily for its knit T-shirts, which currently wholesale for $9 to $15. It was the go-to factory for American Apparel when the T-shirt giant was swamped with orders. But the factory, located in Carson, Calif., south of Los Angeles, has decided it can't survive on T-shirts alone.
August 11, 2016
|
By John McCurry, Contributing Writer
Although Ben Waxman grew up in a family involved in New England's woolen fabric business, he never figured on making a living in textiles. But after a career in politics and working with labor unions, that is exactly what he is doing in his hometown of Portland, Maine.