MANUFACTURING
By Deborah Belgum | November 19, 2015
Men's socks have been one of the bright spots on the retail scene as dudes—hipsters or not—are finding they can dress conservatively for work but maintain a subtle splash of rebellious color by sporting bright socks under dark suits or khaki pants.
Vince, the contemporary womenswear company born in Los Angeles and now headquartered in New York, reported some disappointing financial results for its second quarter.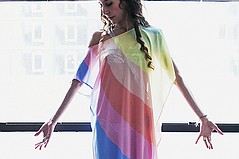 Known for her colorful, signature prints and mystical aesthetic, Mara Hoffman has added activewear to her evolving lifestyle brand.
Last July, founders Sean Barron and Jamie Mazur spearheaded Re/Done vintage denim.
The opportunity to interact directly with the activewear community provided Los Angeles–based activewear brand Wear It to Heart valuable customer feedback, which helped the company launch its wholesale business.
Over the last few years, the beleaguered California surfwear company Quiksilver has been bleeding massive amounts of money.
The market for clothes made for yoga, running and the gym grew 21 percent to become an $18.5 billion business in the 12-month period ending in June 2015, according to market-research company The NPD Group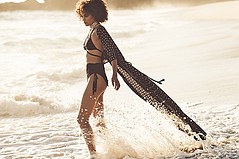 O'Neill—the California brand known for its casual clothing, surfboards, swimsuits and wet suits—has tapped designer Cynthia Vincent for its second contemporary collaboration.
August 13, 2015
|
By Alyson Bender
HButler recently introduced the Mighty Purse collection of patent-pending "charge on the go" handbags.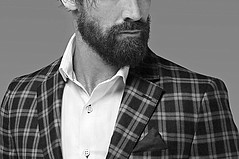 Bespoke looks at affordable prices. That's the promise of Los Angeles–headquartered line Cake for Monarchs, a menswear label that took its bow this month and is exhibiting at Liberty Fashion & Lifestyle Fairs in Las Vegas.
Thomas Wylde, the designer fashion label headquartered in Los Angeles, announced that Jene Park was named as its creative director. Since 2006, Park served as the label's chief operating officer, said John Hanna, the label's chief executive officer.
A fleeting trend or a cultural shift? That is the question everyone is asking about the popularity of athleisure clothing.
Denim designer Jimmy Taverniti has joined Siwy as creative director. The first collection under Taverniti's direction will be Spring/Summer 2016
August 13, 2015
|
By John McCurry, contributing writer
Location increasingly matters when it comes to where apparel products are made. One company experiencing this is Kentwool, a venerable South Carolina–based company that has become known in recent years for its high-end, high-tech golf socks.
Genetic Denim, a Los Angeles premium jeans label started nearly a decade ago, was acquired recently by a small investment group that brought in veteran apparel executive Hubert Guez to help turn the company around. The acquisition price was not disclosed.
After nearly 20 years as head of the largest U.S. thread manufacturer, Fred Jackson is stepping down as the chief executive officer of American & Efird, effective Sept. 28.