LEGAL
By Andrew Asch | August 18, 2016
In 2011, Fraser Ross hired Chris Lee to turn the Kitson chain of boutiques into a global brand.
The Jenni Kayne brand is on the move.
College students returning to school this fall are looking for bargains, and retailers that provide deals will do better than those who don't, according to a recent survey by the accounting firm Deloitte LLP.
Bebe Stores Inc., the California retailer that has been bleeding money for the last four years, said its recently formed joint venture with Bluestar Alliance to find licensees for the brand is marching forward quickly.
In a tough retail market, off-price stores are churning up some of the best performances in the business.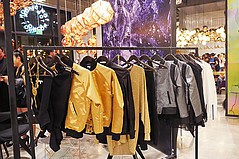 On July 20, a gala opening was held for their 7,000-square-foot emporium, called The Shop, Curve X Tom Dixon.
The marquis sign outside the Urban Outfitters store in downtown Los Angeles carries a curious message. It says: "There's a Pikachu in my soup."
At the W Hotel in Hollywood, guests can order apparel and accessories from LA brand ADBD, which are delivered like room service.
Carl Louisville spent a career on retail on Los Angeles' affluent Westside, but in 2011 he decided that opportunities lay east. He opened the ultra-luxe boutique Guerilla Atelier in the Skid Row–adjacent Arts District in downtown Los Angeles.
Forever 21, the Los Angeles–based fast-fashion retailer, is hoping to open its first store in Bucharest by this fall.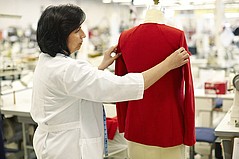 St. John, the venerable Southern California luxury label that is a staple in many well-heeled shoppers' closets, has been on an odyssey in recent years.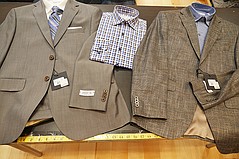 There's only one store in the United States selling suits and gear for the shorter man; it's Jimmy Au's for Men 5'8" and Under, said Alan Au, company vice president.
The nation's ports are expected to see up-and-down import cargo volumes for the rest of the year as retailers gear up for Back-to-School and Holiday sales.
For many retailers, there was no June gloom. They did better business than what many Wall Street analysts predicted.
If you can't beat 'em, join 'em. That is becoming the popular mantra of retailers as the industry goes through a revolution, according to Marc Heller, president of CIT Commercial Services, a division of CIT Group Inc. in New York.
Retailer Fraser Ross filed a lawsuit for legal malpractice and breach of fiduciary duty against Los Angeles law firm Jeffer Mangels Butler & Mitchell LLP in Los Angeles County Superior Court on July 1.