TEXTILE TRENDS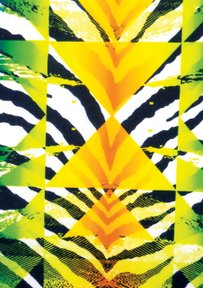 Textile designers dive into the '80s for inspiration for swimwear and coverups. Look for New Wave geometric patterns, Day-Glo colors and conversation prints with stars, graffiti, lips and newsprint.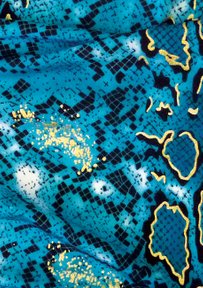 Teal, that moody shade between blue and green, makes a comeback for swim and coverup textiles as a watery ground shade for florals, mesh, sequined styles and textured knits, as well as an accent color paired with cheery brights or crisp back-and-white patterns.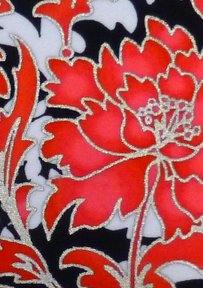 Flower prints are lush with oversize blooms and warm shades of pink, red and orange.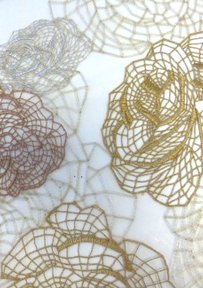 Textured fabrics with plenty of surface interest go upscale with metallic yarns and shiny coatings.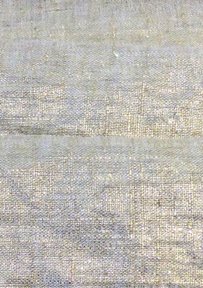 Who says tan can't be glam? Look for added texture, a touch of shine and crisp geometric patterns.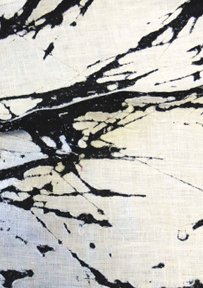 Laser-cut designs, appliques and burnout styles add a third dimension and surface interest to textiles.
NEWS
The National Council of Textile Organizations, a Washington, D.C., trade group that merged with two other textile organizations in March, has a new president.
Sourcing & Fabric Textile Trends directory.
In anticipation of the Trans-Pacific Partnership proposed trade agreement, spandex producer Hyosung will unveil a newly expanding facility in Nhon Trach, Dong Nai, Vietnam, beginning late summer.
NY Textiles Directory
Buhler Quality Yarns Corp., the Jefferson, Ga.–based yarn spinner, has named RadiciSpandex Corp. executive Marty Moran as the company's new chief executive officer, replacing Werner Bieri, who retired earlier this year.
Olah Inc., the New York–based global textile and apparel development firm and producer of the Kingpins trade show, has struck a partnership with Prosperity Textiles, a Chinese denim mill that can produce up to 5 million yards of denim per month.
Swiss chemical company Clariant has released several new dye developments for the denim market.
Spartanburg, S.C.–based Martex Fiber Southern Corp. acquired JBM Fibers, a recycled fiber–manufacturing facility in Brownsville, Texas, with a diverse national customer base for recycled textile products made from post-consumer textile waste.
Color evaluation, control and management are on the agenda at an upcoming two-day workshop hosted by the American Association of Textile Chemists and Colorists.
X-Rite Inc. and its subsidiary Pantone have a new compact spectrophotometer that can help apparel makers efficiently measure color accuracy across the supply chain.
Social Accountability International (SAI), has named Eileen Fisher executive Amy Hall chair of the New York

Apparel companies are taking a closer look at their offshore manufacturing facilities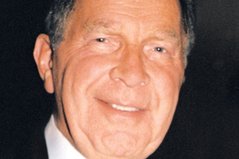 Hans (Hank) Pola died on May 27 after a short illness following a stroke. He was 78 years old.
Buhler Quality Yarns Corp., Continental Business Credit, Progressive Label, Designer Fabric Warehouse, S & J USA Inc.
The National Council of Textile Organizations in Washington, D.C., re-elected Bill Jasper to a third term as chairman of the trade group.