TRADE SHOWS
By Deborah Belgum | December 21, 2017
At the upcoming Los Angeles Fashion Market in March, the California Market Center is taking the wraps off a new trade show, which will be on the building's top floor.
The January LA Fashion Market ran Jan. 15–17 and is typically one of the smaller of the five LA Fashion Markets, which take place in downtown Los Angeles.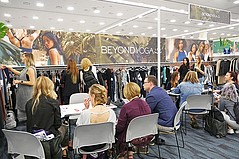 After eight years of exhibiting in Huntington Beach, Calif., across the street from the Pacific Ocean, Swim Collective and its sibling show, the 4-year-old Active Collective, moved their digs to the Anaheim Convention Center, not far from Disneyland.
An added feature this year at Texworld USA is the new "Explore the Floor" series, which features tours for attendees to walk the show floor with industry experts.
Reed Exhibitions has announced it is organizing a new functional-fabric fair this summer in New York to be held during New York market week.
UBM Fashion, organizers of the various MAGIC trade shows in Las Vegas and other apparel events, is working with the Council of Fashion Designers of America to promote the growth of emerging talent in the fashion industry.
Agenda celebrated its 15-year anniversary with talk of what will happen to the streetwear, action sports and lifestyle trade show now that its founder, Aaron Levant, is leaving.
Agenda founder Aaron Levant is leaving the trade show to work on other projects.
For San Juan Capistrano, Calif.–based trade-show producer Emerald Expositions, 2017 was an eventful year.
The five-times-a-year Fashion Market Northern California trade show, held at the San Mateo County Event Center, has a new executive director.
A new trade show called Label Array will be held at the California Market Center.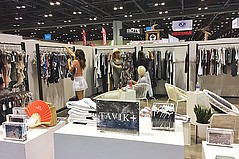 Surf Expo, known for showcasing all kinds of apparel and accessories related to surfing and other water-related sports, is adding a new section called Bluewater.
The fashion business has gone through major changes, but the basic model for fashion trade shows has not budged, said Aaron Levant, founder of the Agenda trade show and senior vice president of trade-show producer Reed Exhibitions.
Starting in 2018, the California Market Center will shift its Los Angeles Fashion Market schedule to a three-day format.
The Sewn Products Equipment & Suppliers of the Americas and trade-show producer Messe Frankfurt Inc. announced they have extended their contract to co-produce the Texprocess Americas trade show through 2032.
Previous Next