TRADE SHOWS
| November 10, 2016
As retailers, designers and sourcing executives start making their trade-show plans for 2017, California Apparel News caught up with several trade-show executives to find out what new plans are in store for the coming year. From new locations and new areas of focus to added amenities and expanded educational programs, organizers are pulling out the stops to improve attendees' trade-show experience.
Traveling to trade shows means three things: making big sales, eating out and discovering a new store to provide a nice pick-me-up. Here are a few suggestions on some of the newer restaurants and fashionable boutiques found in the major cities on the trade-show circuit.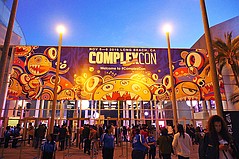 The inaugural ComplexCon event in Long Beach, Calif., mixed fashion trade-show exhibition business with comic-convention fandom during its Nov. 5–6 run, when the novel arrangement made some of the event's vendors wonder if this angle on a trade show could turn into a new revenue center.
The weather outside was Northern California cool and gray, but the mood—and the merchandise—inside the San Mateo Event Center was sunny as retailers from across the Western U.S. turned out for Fashion Market Northern California to place orders for Spring goods.
The Los Angeles Fashion Week runway shows continued with events hosted by Style Fashion Week, Fashion Week Los Angeles and Fashion Business Inc.
Manufacturers looking for low-minimum sourcing and larger companies looking for domestic sourcing opportunities turned out at the Sept. 26–28 run of Factory Direct at The New Mart in Los Angeles.
The Sept. 26–28 run of the Los Angeles International Textile Show drew a diverse crowd.
A new trade event that helps vendors get rid of old inventory or overstock got a small start at the same time buyers were flocking to downtown Los Angeles for the LA Majors Market.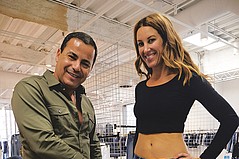 The Sept. 26–28 Spring '17 edition of the LA Majors Market ran at the same time as the LA Textile show, and it brought in a crowd to the California Market Center.
September 22, 2016
|
By Alyson Bender, Contributing Writer
Providing a relaxed environment for regional contemporary brands and buyers, the OC.Mix Show saw a continued upswing in growth for its third edition, held Sept. 13–14 at the Irvine, Calif., headquarters of organizer Z Supply.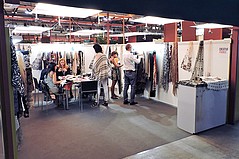 Exhibitors and attendees at the Sept. 6–8 run of Italian textile trade show Milano Unica were pleased with the show's new location at Fiera Milano Rho, the massive convention-center complex located on the outskirts of Milan.
The surfing life has always been about the endless summer. However, the most recent run of the Surf Expo trade show, held Sept. 8–10 in Orlando, Fla., was the place to unveil Summer '17 looks for action-sports and beach-lifestyle brands, such as Lira, headquartered in Anaheim, Calif.
For Kenny Gandalfo, the San Francisco Bay Area trade show CALA was busy. He saw 24 accounts in two days at the most recent Aug. 30–31 run of the event.
The show floor at the Aug. 21–23 run of Fashion Market Northern California was not as full as the April and October events, but exhibitors said a faithful following of Northern California retailers shopped the floor and placed orders at the event, held at the San Mateo Event Center
More than a decade ago, Pooltradeshow started as a venue for new brands to gain a toehold in fashion, and during its most recent run at the Mandalay Bay Convention Center Aug. 15–17 in Las Vegas it remained as a place for brands making their first run as well as those with eclectic style ideas.
Previous Next