TRADE SHOWS
By Dorothy Crouch | June 20, 2019
Organized to showcase Fall II and Holiday, L.A. Market Week saw local retailers and those who headed to Los Angeles from out of state to see their trusted showroom partners. Many buyers wanted to enjoy the intimate atmosphere of working with representatives they know.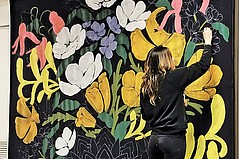 This season, the LA Textile show blended experiences with business to make the event more than a showcase for materials and manufacturing.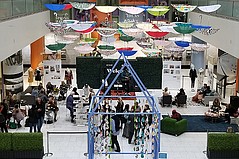 A Los Angeles winter of heavy rains and unprecedented cold weather lifted for buyers attending the March 11–13 LA Market Week.
Apparel Textile Sourcing Miami recently announced the lineup for its three-day show to be held May 28–30 at the same time as Miami Fashion Week.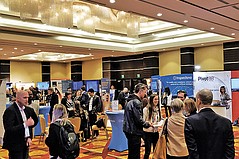 Bringing its Apparel World Series brand conference to Los Angeles for the second year, event-and-conference producer Market Key invited apparel-and-footwear industry leaders to its Product Innovation Apparel (PI Apparel) event to discuss how the future of the business will be shaped by technology.
Affording greater opportunities to apparel-industry professionals, organizers of the Apparel Textile Sourcing Miami (ATSM) show announced the event will now take place May 28–30 at the Mana Wynwood Convention Center, which is one week later than originally scheduled.
A one-day Sustainable Fashion Forum looking at solutions for designers, manufacturers, factories and retailers to reduce their environmental impact, cut waste and maximize their profits will be held March 7 at the California Market Center in downtown Los Angeles.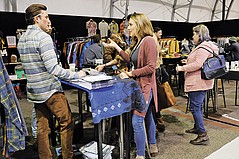 An earlier date and some location switches kept buyers hopping at the recent array of apparel, textile, accessories and footwear trade shows held Feb. 2–7 in Las Vegas.
Despite a move to downtown Las Vegas, Liberty Fairs did not see a decline in the number of vendors exhibiting at its recent show, held Feb. 5–7 at the World Market Center, said Sharifa Murdock, Liberty's co-owner and partner. But she estimated that there was a slight decline in buyer attendance from a year ago.
At Curve Las Vegas, held Feb. 5–7 at the Mandalay Bay Convention Center, organizers wanted to bring sexy back. With the addition of the Kinky Korner—an area devoted to showcasing luxurious, provocative lingerie from international and emerging brands—organizers introduced collections that did not have a booth at the show.
During this February's Stitch @ Project Womens, held Feb. 5–7 at the Mandalay Bay Convention Center, buyers encountered an array of ready-to-wear offerings.
While Project Womens was held much earlier than previous February editions of the show, buyers didn't seem to mind the Feb. 5–7 dates for the event, held at the Mandalay Bay Convention Center in Las Vegas. Show organizers said registration was up 2 percent over last year.
Exhibitors at the International Fashion Jewelry & Accessory Group (IFJAG) show, held Feb. 2–5 at the Embassy Suites in Las Vegas, were able to meet with buyers on a more intimate and personal level.
The eclectic mix of goods available during Pooltradeshow, held Feb. 5–7 at the Mandalay Bay Convention Center, excited buyers who were looking for unique items and artisan-crafted goods.
Along the fringes of the MAGIC Mens show, held Feb. 5–7 at the Mandalay Bay Convention Center, Dean De Costa of Cotton Heritage exhibited his brand's blank T-shirts.
When Agenda moved off of the Las Vegas Strip for its Feb. 5–7 show, it stepped into uncharted territory.