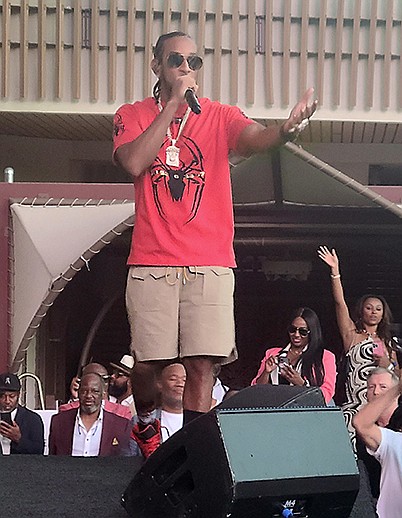 LVFW REPORTS
And Just Like That ...
Las Vegas Fashion Week took place Aug. 5–10, where the city was hot with haute style. From the streets to the show floors, temperatures soared, and buyers arrived ready to write. Fashion was ablaze with acid brights, metallic colors, hi-shine satins and lots of shimmer for the seasons' dopamine dressing. Must-haves included the latest summer knits, as crochets and open weaves were the ultimate trend in women's, men's and accessories.
Kicking off MAGIC, Project and Sourcing at MAGIC at the Los Vegas Convention Center was Martha Stewart delivering the keynote address. That night, Ludacris kept the heat going at Zouk Nightclub.
Quick delivery was the hot topic at IFJAG, held at the Embassy Suites, and at OffPrice at The Venetian Expo cash and carry was getting lots of action.
Good news traveled fast with the announcement of the co-location of Las Vegas Apparel and Womenswear in Nevada at the Expo at World Market Center for next February.
Connecting Fashion With Culture at Project
Sourcing at Magic Reshapes the Fashion Landscape
It Was Time to Shine at Las Vegas Apparel
It's a WWIN Win for Womenswear in Nevada
OffPrice Entices With Cash and Carry Treasures