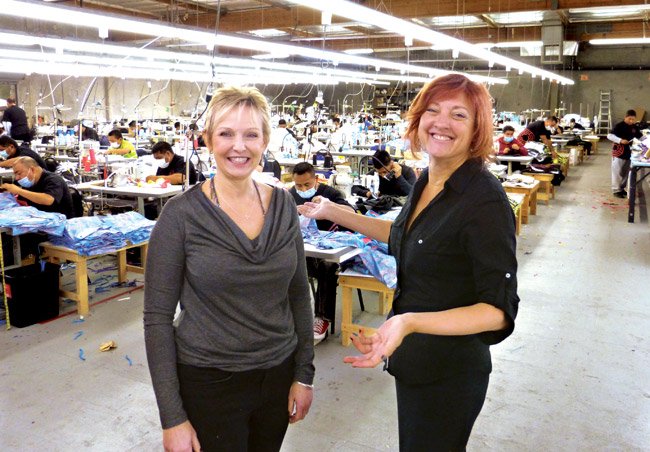 MANUFACTURING
By Alison A. Nieder | November 27, 2013
The Trend Chasers employ 160 people in an 80,000-square-foot facility in the LA Garment District.
Beyond the borders of baseball caps
Now that denim maker True Religion has been sold to an investment management firm, there is still some executive shuffling going on.
When Ahmed Mokhtar was a football player at University of Southern California, the running back couldn't find am affordable, comfortable and stylish hooded sweatshirt to wear off the field.
Cia.Marítima is one of Brazil's top names in swimwear and is worn by celebs, including Rihanna and Gisele Bündchen
Big Denim Brands Turn Out for Isko Workshop
Trina Turk Gets Launches Activewear
Claire Pettibone's New LA HQ Is a Castle
San Francisco–based Levi Strauss & Co. recently made several changes to the executive ranks of its Levi's brand division.
Los Angeles–based Sequential Brands Group, owner of the William Rast and People's Revolution labels, announced its relaunch of the wheeled-footwear brand Heelys, which Sequential acquired last January for $63 million.
J. Mendel, the luxury womenswear brand based in New York, announced that Marc Durie is the new president and chief executive of the fashion house.
Paul Frank, the kitschy Southern California apparel and accessories company known for its "Julius the Monkey" image, has formed a licensing partnership with Signorelli to manufacture U.S.-made fashion tops for women and teens.
Yoga wear is now a $14.2 billion business in the United States
Cotton Incorporated, The Denim Bank, Grace in LA, Invista, iSKO, Laken Kyra, People vs. West, Shol Textiles, Trim Networks Inc.
Union City, Calif.–based Ariat International named Jake Rivas vice president of footwear design for the company, which makes equestrian performance footwear, apparel and accessories.
Los Angeles–based Alternative Apparel named Dawn De La Fuente vice president of marketing.