MANUFACTURING
By Deborah Belgum | June 13, 2016
Los Angeles blue jeans company NYDJ Apparel, formerly known as Not Your Daughter's Jeans, has appointed Lisa Collier to take over the top job at the company.
After more than six months of searching for a new president, John Walbrecht has been appointed to take over the top job at Mountain Hardwear.
A Los Angeles manufacturer that supplies garments for Ross Stores has been ordered to pay $212,000 in back wages for employees of 13 of its subcontractors after the labor department found YN had violated requirements for minimum wage and overtime, according to a labor department release.
At the September run of Designers and Agents in New York, a new concept will bow showcasing designs that are made in New York.
The Wolves + Wildflowers young contemporary brand, which will roll out later this year, was inspired by the girl who likes bad boys, said Tina Rani, a cofounder of the Huntington Beach, Calif.–based label.
The latest LAEDC economic forecast calls for continued growth in California and the rest of the country.
February 11, 2016
|
By John McCurry, Contributing Writer
Cloquet is a small town in northeast Minnesota, about 20 miles west of Duluth. It is not a typical textile manufacturing center, and it's home to a not-typical company called Wear-A-Knit.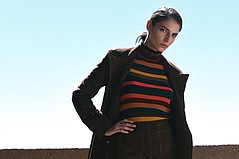 Staud clothing is a customizable luxury line that takes women virtually to the design table.
After a decade of designing for some of the biggest surfwear designers, including Billabong and Rip Curl, Christa Bischofberger and Kristy Kalsman started their own brand, Saltwater Luxe, which is headquartered in Long Beach, Calif.
After four months in bankruptcy, Los Angeles clothing maker American Apparel announced on Feb. 5 that it had exited Chapter 11 bankruptcy after a reorganization plan was approved days earlier by the U.S. bankruptcy court.
To celebrate the opening of its new showroom in downtown Los Angeles, Turkish denim mill Bossa hosted a grand opening party and denim trend presentation on Jan. 15.
Levi Strauss filed the first patent for a distinctive pair of work pant made from a twill fabric in 1873. But denim work pants—or jeans—had been worn even earlier. The Fashion Institute of Technology recently organized "Denim: Fashion's Frontier," an exhibition charting the history and evolution of jeans, at the Fashion and Textile History Gallery at the Museum at FIT in New York.
Motocross and mountain-biking clothing brand Fox Racing, a division of Fox Head Inc., announced some big changes, according to a Feb. 3 company statement.
The California Market Center—the biggest apparel showroom complex in the Los Angeles Fashion District—is undergoing a metamorphosis by adding more mammoth exhibition space and consolidating showrooms onto fewer floors.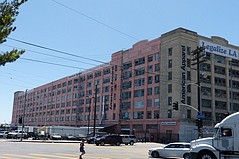 Just days after American Apparel was cleared to exit bankruptcy, the troubled Los Angeles clothing maker filed its third-quarter earnings results showing the company is bleeding money.
Paul Frank Sunich, the man who invented Julius the Monkey and founded Paul Frank Industries—only to be forced out from his namesake venture—is back with the label.