TECHNOLOGY
By Alison A. Nieder | November 19, 2015
Epson's SureColor F9200 sublimation printer landed the product of the year award within the "roll-to-roll dye sublimation on textile" category at the recent Specialty Graphic Imaging Association (SGIA) expo in Atlanta.
For its third Customer Design and Innovation Center, or CDIC, Glendale, Calif.–based Avery Dennison's Retail Branding and Information Solutions unit (RBIS) looked to downtown Los Angeles' Arts District, where the branding, packaging and technology solutions company opened a 15,000-square-foot facility on East Third Street in September.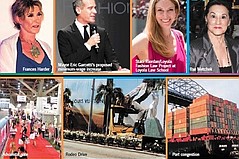 From the sale of trade show giant Advanstar to the high-profile federal raid on Los Angeles Fashion District businesses, 2014 was a year of surprises and contrasts.
International Checkout Inc., a Van Nuys, Calif.–based shipper, has carved a niche of managing international sales and fulfillment for retailers such as Bebe, Alice + Olivia by Stacey Bendet, Trina Turk, Joe's Jeans and Kitson. It recently announced that it would be working with high-profile boutique Ron Herman.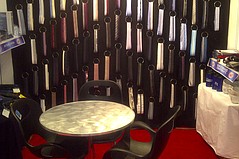 The international marketing director for QST Industries has a waistband wall, which is part of the Chicago-based company's trade show booth. But, inevitably, designers at trade shows will pull off examples of the custom waistband treatments they want to use in their own collections.
Unique Solutions Design Ltd., makers of the Me-Ality apparel size-matching service, which has been piloted at select Bloomingdale's locations, announced the opening of a California headquarters and a new chief executive officer, who will serve at the company's office in Santa Clara, Calif.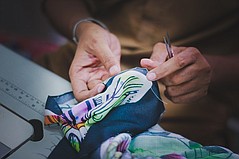 November 12, 2014
|
By Alyson Bender
Vida, a new e-commerce platform that launched Nov. 12, is channeling talent from around the world and using new direct-to-fabric technology to turn all forms of multi-media art to digital prints at the speed and ease that an at-home printer provides.
Los Angeles–based apparel ERP (Enterprise Resource Planning) software provider AIMS360 is expanding to the East Coast.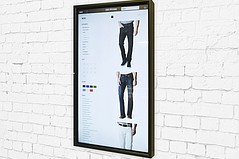 John Hazen thinks a lot of shoppers are put off by various retailers' experiments with omnichannel—in particular, the kiosks used in omnichannel-focused stores. These kiosks typically find uses ranging from viewing a brand's full collection to completing a sale. Retailers such as Staples use kiosks.
October 23, 2014
|
By By Mark Goldberg, Director of Western Region, NGC
One of today's hottest fashion trends is as much a part of the West Coast as sand, surf and sunshine—apparel that wears the label "Made in California."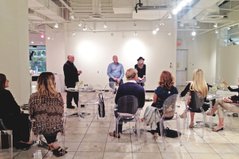 The intersection of social media and business—and the increasing power of the social consumer—was on the agenda at a recent informal discussion between Rachael Dickhute, principal of the fashion blog Everything Hauler, and Don Stephens, vice president of information technology for Big Strike Inc.
October 16, 2014
|
By By Alyson Bender
The intersection of fashion and technology—and the future of wearable technology—was on the agenda at a recent one-day conference hosted by Fi3.
From recommendation algorithms to drones, Amazon.com and other major e-commerce sites branded themselves as the go-to places for new retail tech and convenience, but Macy's Inc. and other big mall companies are pushing back.
To great fanfare, Apple introduced its digital wallet, Apple Pay, on Sept. 9. However, more retailers are getting into the mobile payments market.
French technology solutions and equipment supplier Lectra has named Chris Nicolaes managing director for Lectra Germany in Ismaning, Germany.
Apparel technology solutions provider Infor will host "Infor Fashion Meet-n-Learn" on Oct. 15 at the California Market Center in Los Angeles.