TECHNOLOGY
By Andrew Asch | June 1, 2017
Product Lifecycle Management software is something of a social media for the manufacturing set.
On runways in Oslo and Los Angeles, the Moods of Norway fashion label has been busy, having displayed looks from its Autumn/Winter 2016/2017 season in the past four weeks.
To find True Religion Brand Jeans' next tech innovation, look no further than its bricks-and-mortar stores.
After operating as an online site for women's indie apparel, ModCloth is gearing up to add bricks to its clicks-based business model.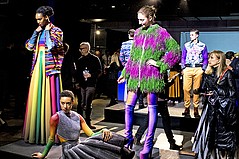 February 25, 2016
|
By Natalie Zfat, Contributing Writer
Epson taps 11 designers for second annual show at N.Y. Fashion Week.
After three decades in the apparel industry, Donald Reichman, who has represented various womenswear brands, has joined technology company RMSA Retail Solutions.
China, with a population of 1.4 billion people, is a burgeoning consumer market where shoppers are hungry for American clothing labels.
Los Angeles–based District2.co, an online B2B resource for connecting apparel designer and manufacturers, will host TomorroWear, a wearable-technology exposition, on Feb. 17 at Maker City at The Reef in downtown Los Angeles.
E-commerce solutions company Starmount recently launched new products to assist retailers with their omnichannel initiatives.
California's attorney general has won a settlement from a clothing factory in India accused of stealing intellectual property from U.S. software companies.
Harry Rosen, a 61-year-old luxury menswear retail chain with 17 stores in Canada, has implemented the Retail Vision Suite from Montreal-based ERP (enterprise resource planning) software provider Jesta I.S. Inc.
Omni-channel was the tech buzzword of 2012. In 2015, the retail tech world was focused on "Big Data," or through feeding extremely large sets of data into computer algorithms, then finding trends and patterns, which might forecast what kind of denim consumers will purchase.
Ever since PLM (Product Lifecycle Management) software was introduced to the apparel industry, the solution has been helping companies do everything from line planning to streamlining production by giving everyone involved in development access to the same real-time information.
Epson's SureColor F9200 sublimation printer landed the product of the year award within the "roll-to-roll dye sublimation on textile" category at the recent Specialty Graphic Imaging Association (SGIA) expo in Atlanta.
October 22, 2015
|
By John McCurry, Contributing Writer
The phrase "speed to market" has become commonplace over the years, but it still aptly describes what's driving business in the apparel industry. And, as a result, industry suppliers such as Lectra are benefiting.
The worlds of fashion and technology merged at the launch of Melange Live, a conference that explored new developments in e-commerce, mobile/digital payments, brand building using social media and new innovations in wearable technology.