TECHNOLOGY
By Alison A. Nieder | April 17, 2014
Alpharetta, Ga.–based Eton Systems will release a new mobile application designed to help apparel manufacturers collect real-time production information to help them manage the factory floor.
A new survey has RFID—radio frequency identification—technology on track to reach $23.4 billion in 2020.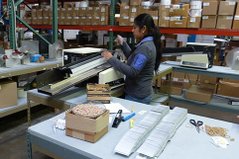 When a designer is first considering launching a line, the first step may be researching the market and creating mood boards, or it might be shopping for textiles or creating original prints and embellishments—followed by design, patternmaking and samples.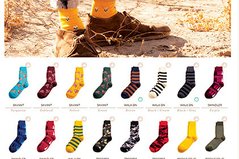 Walk down the trade-show aisles 10 years ago, and most likely every desk had a stack of paper order forms. Today, it's more common to see customers tapping an iPad to take notes and place orders through an application such as NuOrder.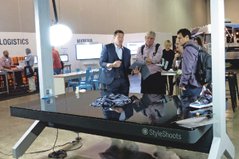 StyleShoots, the system that simplifies still-life product photography, has a new home in Los Angeles.
Tolland, Conn.–based Gerber Technology introduced its Paragon cutting platform in September at the China International Sewing Machinery & Accessories show in Shanghai.
This listing is provided as a free service to our advertisers.
A car fire outside the warehouse for Un Deux Trois Inc. destroyed the facility with smoke and fire damage, and the Commerce, Calif.–based girls and juniors brand had hoped it could recoup losses from the company's fire insurance policy.
If Marshal Cohen had his way, retailers and fashion-industry leaders would have started breaking the rules a long time ago.
Six years after launching flash-sale site HauteLook, Adam Bernhard is leaving the company as its chief executive officer. He will remain an adviser.
Visitors to the recent Liberty Fairs trade show in Las Vegas had a chance to demo a new system designed to make e-commerce easier.
Vertical textile and apparel maker Grupo Karim's has tapped NGC Software's product lifecycle management (PLM) and supply chain management (SCM) solutions to help the company manage its operations in the U.S., Central America, the Caribbean, Mexico and Pakistan.
Planet Blue is taking e-commerce to the next level. The Los Angeles–area multi-store retailer relaunched its website and now offers same-day shipping in select areas of Southern California. Soon, it will begin offering free international shipping to 100 countries.
iMerchandise is a new mobile application that acts like a virtual assistant for buyers. David Secul, the creator of the company, said he developed the platform to assist his wife, Angela Gengaro-Secul, owner and buyer of New Jersey boutique Tula.
Gap Inc. Chairman and Chief Executive Officer Glenn K. Murphy reported being pleased with "Reserve in Store," the sprawling San Francisco–based retail giant's recent test of its omni-channel retail program, and he is considering expanding the test to more locations.
In a twist on the flash-sale model, Australian designer Bruno Schiavi has introduced a new e-commerce site, One strong> a Day, which will offer one new limited-edition strong> for sale every day.