TECHNOLOGY
By Alison A. Nieder | August 10, 2017
Precise Software, a Minnesota-based company that provides software solutions to the decorated apparel market, has merged with Open Systems, a provider of business software solutions such as enterprise resource planning (ERP) and customer-relationship management (CRM).
Joe Monastiero wants to clean up online shopping.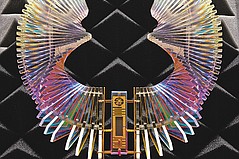 Radio frequency identification (RFID) technology has found a home along the apparel-industry supply chain from factory to distribution center to retail sales floor. Some designers are looking to introduce the technology at the very beginning of the chain by incorporating RFID into the design of garments and accessories.
Koch Equity Development LLC, the investment and acquisition subsidiary of Koch Industries Inc., which also owns Lycra parent company Invista, will invest more than $2 billion in Infor, the New York–based provider of cloud-based, industry-specific business applications in a bid to help Infor accelerate innovation and expand distribution.
Los Angeles–based apparel software and equipment maker Tukatech has introduced a new Enterprise Edition of its Tuka3D to make the 3-D computer-aided design software accessible to more apparel makers.
Los Angeles–based equipment and software solutions provider Tukatech has introduced Tukacad Professional Edition on the Cloud, a computer-aided pattern making, grading and marker software solution that allows users to begin working with the program as soon as they subscribe.
Los Angeles apparel-industry software provider AIMS 360 has integrated e-commerce platform Shopify into its ERP (enterprise resource planning) solution to help facilitate e-commerce operations.
San Francisco–based private-equity firm Vector Capital has sold its shares in software and equipment maker Gerber Technology to American Industrial Partners for an undisclosed amount.
September 1, 2016
|
By John McCurry, Contributing Writer
A Brooklyn, N.Y.–based husband-and-wife team is seeking to disrupt the traditional business model for textile and apparel manufacturing with a startup company that produces neckties, socks and scarves on a custom-order basis using the latest 3-D knitting technology.
August 11, 2016
|
By Edward A. Gribbin, Contributing Writer
With consumers not prepared to pay a premium for more-ethical goods and services, what does the industry have to do?
August 11, 2016
|
By Alyson Bender, Contributing Writer
The founders of Sensoria Inc. believe that clothing can be the next wave of "ultra-personal computing" and have created a collection of apparel featuring embedded sensors that connect to an app that tracks data such as activity type, heart rate, gait and in-footwear pressure to the user.
Members of the U.S. apparel industry turned out recently at a demonstration of a new machine that combines the functions of a spinning machine and a knitting machine.
Electronics For Imaging Inc., a printing technology firm based in Fremont, Calif., has acquired Israel-based design software firm Optitex Ltd. for approximately $52.8 million.
Commercial printing solutions provider Kornit Digital North American is preparing to begin shipping its Vulcan system.
"Project Runway" star Tim Gunn will be speaking about the convergence of fashion and technology at Gerber Technology's Ideation technology conference in Miami Beach, Fla.
Retailers scrambling to enter the omni-channel world may already be behind their competitors.