TRADE SHOWS
By Andrew Asch | July 23, 2015
MIAMI BEACH, Fla.—SwimShow, the biggest North American trade show devoted mostly to women's swimwear, made a splash in the fashion world when it ran at the Miami Beach Convention Center.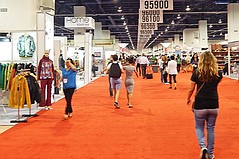 With more than 20 fashion trade shows showcasing a huge selection of products and styles, MAGIC and its satellite shows will give retailers an opportunity to view the latest collections from brands across the country and around the world.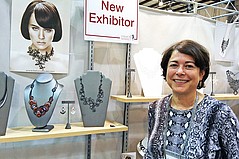 February 5, 2015
|
By By Christina Aanestad Contributing Writer
There were several new exhibitors and a range of products from made-in-America apparel and accessories to European collections and moderately priced lines at the Jan. 25–27 run of Fashion Market Northern California at the San Mateo Event Center.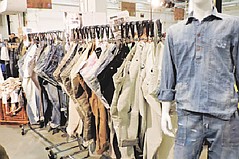 With representatives from retailers and brands such as Levi Strauss & Co., Target, Urban Outfitters, VF Corp., Express, Marc Jacobs, Bonobos, Gap, Citizens for Humanity and Tommy Hilfiger, the Jan. 20–21 run of the Kingpins denim trade show put the focus on denim innovation and technology.
CALA San Francisco is headed to a new home in March.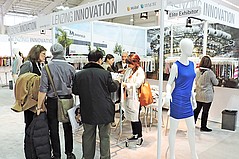 Clear winter weather and a holiday opening day helped kick off Texworld USA with busy aisles and booths for the show's Jan. 21–23 run at the Jacob K. Javits Center.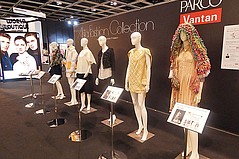 As China's apparel and textile industries compete to maintain their global dominance, similar challenges confront Hong Kong Fashion Week, established more than 40 years ago at a time when many people outside of Asia knew nothing about making clothes in this part of the world.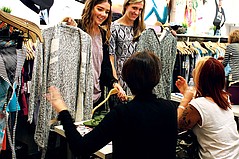 January 22, 2015
|
By By Alyson Bender
Buyer attendance doubled over last August's edition of Swim Collective, according to Executive Show Director Shannon Leggett. The show ran concurrently with the hard-launch debut of Active Collective at the St. Regis Monarch Beach Resort in Dana Point, Calif., Jan. 15–16. With a maximum total capacity of 130 exhibitors, the shows were sold out months in advance.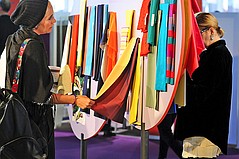 Première Vision New York and Indigo New York returned to Pier 92, on the western edge of Manhattan, for a second time Jan. 13–14. Almost 300 vendors from 24 countries, including a strong showing of Turkish firms, came to exhibit their Spring/Summer 2016 collections in the categories of fashion fabrics, accessories, and textile and surface design.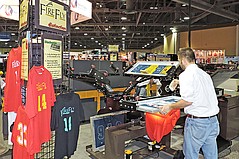 With screen-printing machines whirring and salespeople talking about the next big thing in T-shirts, the Imprinted Sportswear Show Long Beach ran Jan. 16–18 at the Long Beach Convention Center, located by one of America's busiest ports, in Long Beach, Calif.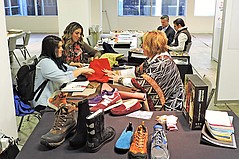 The debut run of the SoCal Materials Show got off to a brisk start as manufacturers and brands crowded the aisles of the California Market Center's penthouse on the hunt for sourcing materials for footwear, accessories and apparel.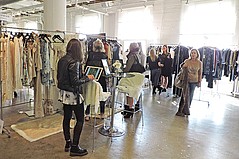 January 15, 2015
|
By Andrew Asch, Deborah Belgum and Alison A. Nieder
The first Los Angeles Fashion Market of 2015 proved to be surprisingly upbeat for many exhibitors, who reported seeing steady traffic from primarily West Coast retailers.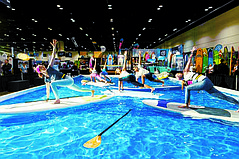 While much of the Eastern Seaboard suffered under a cold snap Jan. 8–10, weather in Orlando, Fla. was a good backdrop to Surf Expo, the veteran trade show for surfing and other water sports.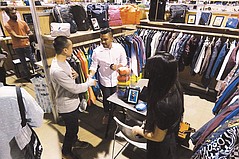 A cold winter helped produce a hot show at Agenda, the first trade show of the 2015 trade-show season, which ran Jan. 5–6 at the Long Beach Convention Center in Long Beach, Calif.
Business Journals Inc.—the New York–based organizer of the Moda, Accessories The Show and Fame trade shows—announced plans to shift its May show dates and co-locate with ENK's Intermezzo and Accessorie Circuit at the Jacob K. Javits Convention Center in New York.
The California Market Center will launch Shape, a new trade show focused on the "athleisure" trend, during the March 16–18 run of Los Angeles Fashion Market.