TRADE SHOWS
| May 12, 2016
With a packed trade-show calendar—as well as new trade shows launching—event organizers are faced with the task of driving traffic to their shows. It's even more challenging in markets such as Las Vegas, where multiple events run concurrently at locations scattered around town.
Venue Trade Show founder Miles Canares announced Silk Show, a new event that will take a bow at the sprawling Asian American Expo, which is scheduled to run Jan. 16–17 at the Pomona Fairplex in Pomona, Calif.
After eight years in Paris, French lingerie and swimwear trade shows Mode City and Interfilière will temporarily return to Lyon, France, for their July 9–11, 2016, run.
Hitting the trade-show circuit is a bit of an adventure. If you're a buyer, it's all about discovering that new clothing line that will sell through the roof. If you're a vendor, it's hoping that retailers love your collection and can't get enough of it.
Nearly one year after UBM PLC acquired California-based Advanstar Communications, the organizer of MAGIC and several other apparel trade shows, UBM is making some significant adjustments to its executive lineup within the fashion group division.
Trade shows offer attendees a wealth of opportunities, from business-to-business seminars and networking functions to the main event—walking trade shows looking for new products and trends. With so much for trade show visitors to do and see, we asked several show organizers how they recommend attendees budget their time at their trade shows.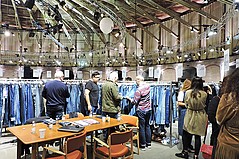 Now in its second year in Amsterdam, Kingpins organizers have determined a few keys to success in running the boutique denim-sourcing trade show.
SAN MATEO, Calif.—Buyers were literally taking the temperature outside to see how much merchandise they needed as they visited the three-day Fashion Market Northern California show to browse Spring 2016 fashions.
After five runs as a solo event, Venue Trade Show's streetwear grit set up shop with the gowns and sequins of Style Fashion Week.
The California Market Center once again hosted the Select show, featuring contemporary apparel, accessories and jewelry resources in the CMC's Fashion Theater.
Now in its fifth season, the Los Angeles Men's Market moved to a new event location in the California Market Center called Space 10B.
This season, Brand Assembly expanded to 112 brands.
Buyers crowded the aisles at the Oct. 12–14 run of Designers and Agents at The New Mart, which saw an expanded mix of returning and new exhibitors.
This season, lifestyle trade show Coeur moved to the Alexandria Ballrooms for its Oct. 12–14 run.
Athletic wear, yoga wear and swimwear were front and center at the third Shape show, organized by the California Market Center on the building's 13th floor.
Unseasonably high temperatures and unusually high humidity greeted buyers and exhibitors attending the recent Spring 2016 Los Angeles Fashion Market, which ran Oct. 12–15 in downtown Los Angeles.