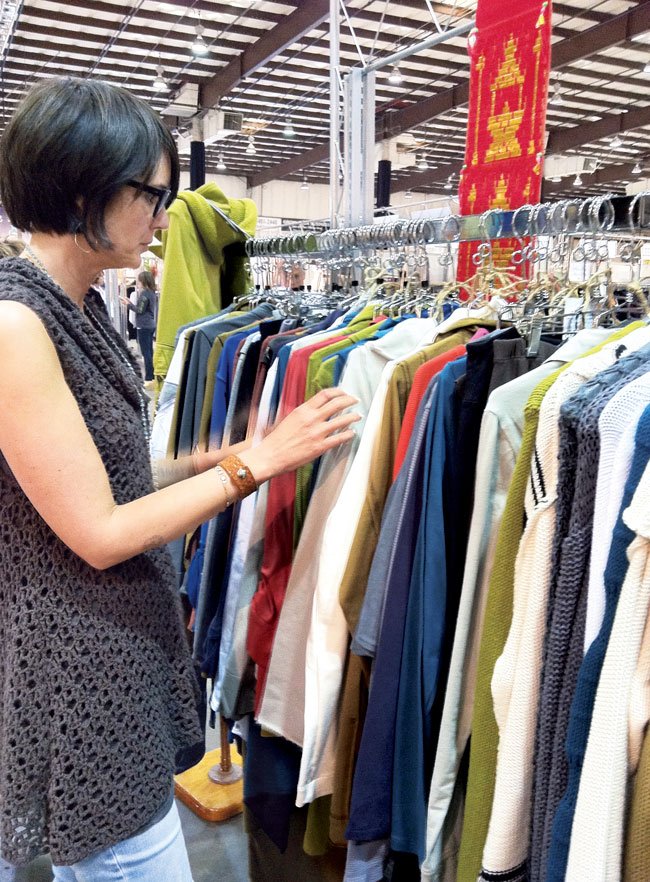 REPORTS
| April 17, 2014
Now in its 50th year, Fashion Market Northern California showcased Fall 2014 styles from international brands and domestic labels during its April 11–13 run at the San Mateo County Event Center in San Mateo, Calif.
SAN MATEO, Calif.—The ever-growing Fashion Market Northern California just got bigger.
Retailers had a lot of ground to cover during the recent run of Los Angeles Fashion Market
In less than two years, Brand Assembly has grown from a showroom in the Cooper Design Space to a trade show featuring 60 upscale contemporary brands held on the building's 11th floor.
The California Market Center building was buzzing with buyers
Exhibitors reported waves of traffic at the Sept. 30–Oct. 2 run of the Los Angeles International Textile Show at the California Market Center, where designers and piece-goods buyers browsed among resources for domestic and international textiles, fiber, trim, trend information, and technology.
The California Market Center and the Gerry Building will open Los Angeles Fashion Market Spring '14 on Sunday, Oct. 13. The New Mart, Cooper Design Space and Lady Liberty will open on Monday, Oct. 14. The market's temporary shows have also opted for different opening days.
A group of Los Angeles–headquartered men's fashion showrooms partnered to put together a new, independent trade event, the Los Angeles Men's Market Initiative, which will debut during Los Angeles Fashion Market.
More than 100 booths filled with all sorts of clothing filled the vast 13th-floor penthouse at the California Market Center, marking the very first Los Angeles Apparel Show.
Buyers attending the recent Surf Expo, held Sept. 6–8 at the Orange County Convention Center in Orlando, Fla., had a wide selection of surf and swim merchandise to shop.

This season, WWDMAGIC got creative and moved vendors' booths around in the Las Vegas Convention Center.
Sourcing at MAGIC kicked off its four-day show a day early on Aug. 18 at a new location in the Las Vegas Convention Center: the North Hall.
Project, held on the first floor of the Mandalay Bay Convention Center, carried better men's and dual-gender contemporary collections, and The Tents, which featured a selection of high-end brands catering to top-notch retailers, was held in a 50,000-square-foot tent adjacent to the convention center.
Pooltradeshow, known for showcasing emerging and up-and-coming designers, had a nice turnout with nearly 250 exhibitors at the Mandalay Bay Convention Center.
The aisles were crowded and buyers were lined up at many of the booths at the Aug. 17–20 OffPrice show at the Sands Expo and Convention Center.
If you were hearing a few foreign accents around the MRKET show, it's because 14 percent of the buyers attending the menswear event were from out of the country, according to Britton Jones, president and chief executive of BJI Fashion Group, which is part of Business Journals Inc. in Norwalk, Conn.