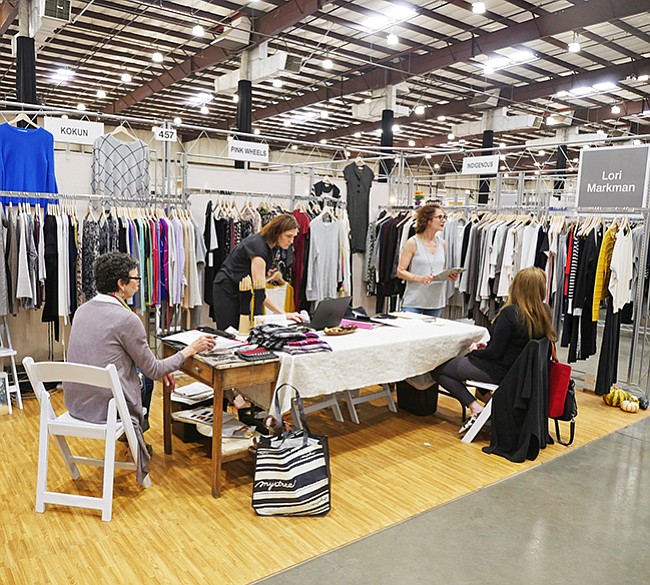 TRADE SHOWS
By Andrew Asch | October 19, 2017
It didn't look like a good day to go to a trade show.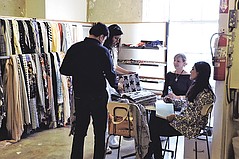 For many buyers and exhibitors, the March 13–16 run of Los Angeles Fashion Market was the last stop in a long trade-show season that included shows three weeks ago in Las Vegas and New York.
Longtime assistant show director Sannia Shahid was recently named show director for the Los Angeles Men's Market. She will run the upcoming LAMM, which is scheduled for March 28–29 in the California Market Center showroom building in downtown Los Angeles.
The 56 booths in the African pavilion were filled with bright bursts of color where countries such as Kenya, Lesotho, Madagascar, Nigeria, Rwanda, Uganda and Ethiopia displayed their various products.
Stitch, the show for women's ready-to-wear fashions, found its groove.
The several ballrooms that make up the Women's Wear In Nevada show at the Rio All-Suite Hotel and Casino in Las Vegas were packed to the gills with booths that sold everything from large colorful hats for church to slip-on sleeves to be worn under sleeveless dresses.
The energy was high at WWDMAGIC, a vast young contemporary and trend-driven show held Feb. 21–23 in the Central Hall of the Las Vegas Convention Center.
It was a time for celebrity endorsements at the Feb. 21–23 run of Project Womens at the Mandalay Bay Convention Center in Las Vegas.
Pooltradeshow, which ran Feb. 21–23 at Las Vegas' Mandalay Bay Convention Center, kept its status as a trade show for fashion alternatives.
The Agenda trade show moved to a bigger hall for its Feb. 20–22 run in Las Vegas, but the spirit of the streetwear-and action sports–focused event remained similar to its past Vegas shows.
Print media is still a powerful medium. Just ask the cofounders of the Krammer & Stoudt label.
IFJAG, the jewelry and accessories trade show, returned to Las Vegas one year after hosting its first show in Las Vegas in 2016.
This season, for its Feb. 21–23 run, Curve Las Vegas moved from the corner of the Mandalay Bay Convention Center to a central location next to the athleisure exhibitors at Project Womens.
This season, Capsule and Agenda shared space in a ballroom at The Venetian in Las Vegas. The two companies are under the Reed Expositions umbrella, but show organizers made sure to keep each space distinctive and independent with a separate look and music.
The aisles were crowded, the booths were bustling and the exhibitors were upbeat at the Offprice show, held Feb. 19–22 at the Sands Expo in Las Vegas.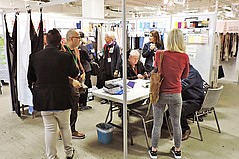 Many of the familiar faces walking the aisles at the Los Angeles International Textile Show were missing this season when the longstanding textile show went head-to-head with an apparel trade show in New York.