SWIM-SURF
By Dorothy Crouch | January 3, 2019
After 18 years of working in private-label swimwear, Esther Maya, the owner and creative director of RW Designs, Inc., wanted to start her own line. With a Los Angeles–based team of 12 to 15 employees, Maya set out to create a brand that celebrates women.
California Apparel News Contributing Photographer Tim Regas checked out the sandy scene to capture the latest looks in beachwear.
From feminine frills to sportswear-inspired cover-ups, designers are delivering the hottest trends for Cruise '19.
Manhattan Beachwear, one of the largest swimwear manufacturers in the United States, said it will be designing and distributing women's swimwear for BCBGMax­Azria and BCBGeneration. The collection will launch globally for Fall 2018.
Billabong International's last day of trading on the Australian Securities Exchange was April 9, bringing an end to a major round of acquisitions in the surfwear market.
After Boardriders' 54-year-old chief executive disappeared off the coast of southeast France on Jan. 30, the Southern California surfwear company has named his replacement.
Rescue operations in the south of France were called off in the search for Pierre Agnes, the 54-year-old chief executive of Boardriders Inc., the parent company of Quiksilver, Roxy and DC Shoes in Huntington Beach, Calif.
With the announcement of Boardriders Inc.'s purchase of Billabong International, the surf business's two biggest rivals are now on the same team, which means people in the surf industry are asking whether the deal is going to be a wave that lifts all boats or if it is going to be a wipeout.
Two big surfwear companies will be riding the waves together.
Kristyn Goddard, the designer and owner of Paradise Ranch Designs, dreamed of buying swimwear that could be as alluring as a Hollywood starlet's portrait from the 1940s and 1950s yet not reveal too much of a woman's body.
When Sunsets Inc. wanted to take its B.Swim brand in a different direction, it hired Stephanie Graves to set the course for the label.
Francesca Lagudi was still in fashion school when she launched her swimwear line, called Free Bella, two years ago.
As a kid growing up in Upland, Calif., Vy Nguyen swam practically every day. If she wasn't in a swimming pool, she was at the beach. "I was just obsessed with swimming and the beach," said the founder of Lolli Swim.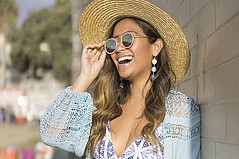 Los Angeles Beach Scene
Lost, a surf brand that's about 25 years old, initially defined itself as a company that makes world-class surfboards bearing the logo …Lost. But over the last few decades, the brand has evolved beyond surfboards to surfwear with plans for retail expansion.